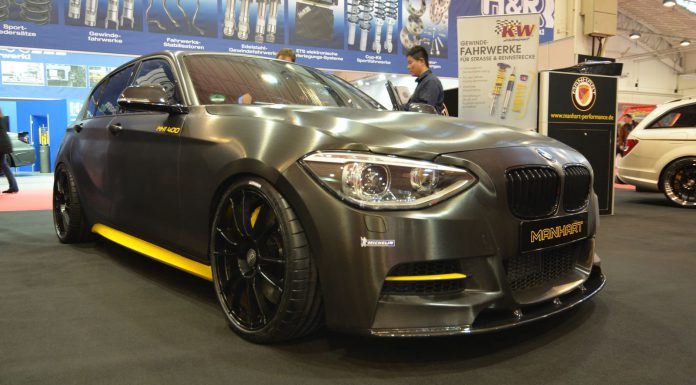 Tuners Manhart Performance have been tinkering with a number of BMW models in time to be unveiled at this years Essen Motor Show. One of them is a BMW 1 Series, not very exciting, but a 1 Series that is a tuned M135i that is called the Manhart MH1 400. The standard M135i's brilliant twin scroll turbocharger has been added to and the results of the new turbos are frankly astonishing. Torque as a result is boosted from 400 Nm (300 lb-ft) to 561 Nm (414 lb-ft) of torque, meaning this 1 Series is spectacularly responsive.
The suspension is based on a KW Clubsport system that has been treated to a host of Manhart upgrades. Along with the huge amount of power and revised suspension the pocket rockets brakes have also been uprated and now measure 380 mm at the front and 356 mm at the rear. Housing the new brakes are some very tasty wheels from OZ, Ultraleggeras that measure in at 19×8.5 inches all around on Michelin Super Sport rubber, the brilliant tyres that are on the standard car.
On the exterior, Manhart Carbon fibre front splitter, rear diffusor, mirror caps and a special foil. Inside you'll find BMW Performance seats complemented with racing spec Alcantara and mandatory carbon fibre parts. We are sure you will agree that this is one of the best looking 1 Series packages around!