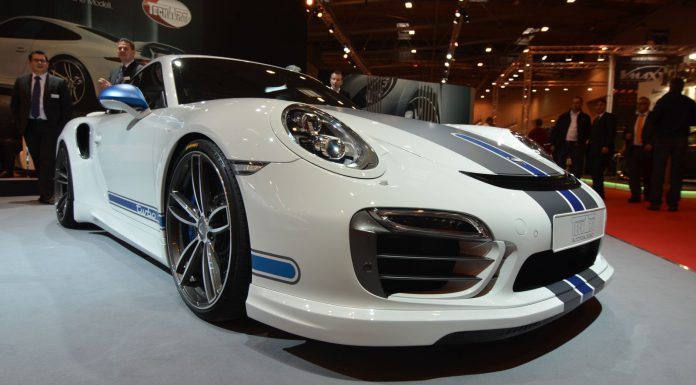 TechArt have one of the biggest world premiere's at the Essen Motor Show 2013; the Techart 991 Turbo. It is a fantastic looking beast! Having just recently been delivered to customers, TechArt are among the first to display a bodykit for this latest generation Turbo. If the 991 is anything like the 997, the TechArt bodykit will sell like hotcakes!
There are no performance upgrades yet, however, the bodykit combines a new front spoiler, a fixed rear spoiler, a roof spoiler and rear diffuser trim for a complete aerodynamic overhaul.
Visual updates include TechArt-designed side skirts, headlamp trims, aero wings and sport tailpipes. The new TechArt kit is wider, flatter and longer than any of its predecessors. It is constructed from a lightweight fibre composite of carbon and polyurethane RIM, to give maximum strength and optimal performance.
The car on display features the front spoiler finished in white, aero wings in meteor grey, headlight trims in white, side mirrors in azure blue, side skirts in white, side air channels in meteor grey, rear spoiler in white, diffuser trim in white with the rear diffucer itself finished in meteor grey, roof spoiler in white and performance décor in azure blue and silver. Brake calipers are custom coloured azure blue with white TechArt logo. Inside, there is a carbon package together with a variety of unique colour applications!
For full details on the package, take a look at our earlier TechArt 991 Turbo post.