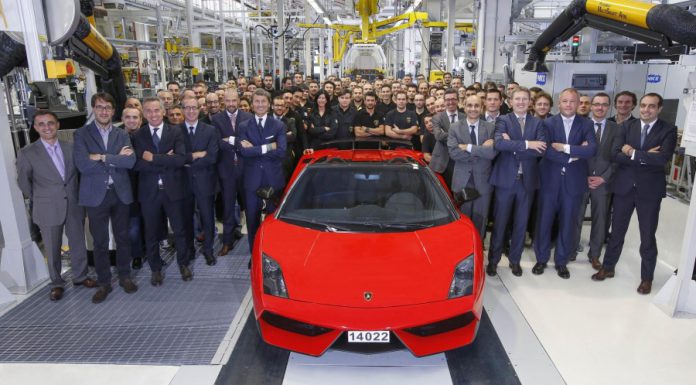 After more than 10 years in production and with a total of 14,022 units produced, production of the Lamborghini Gallardo has finally come to a close. The final car to roll off the production line was the following Rosso Mars Lamborghini Gallardo LP570-4 Spyder Performante.
With over 14,000 Gallardos sold, the car is easily the most successful Lamborghini ever and also one of the most successful and popular supercar across all manufacturers ever. In fact, the Lamborghini Gallardo has proven so successful for Lamborghini that almost half of all the vehicles it has manufactured since its inception in 1963 have been Gallardos!
GTspirit Road Test of Lamborghini Gallardo LP570-4 Super Trofeo Stradale

First launched in 2003 exactly 40 years after the company was founded, the Gallardo marked a major moment in the history of the company. At the time, Lamborghinis factory was producing just 250 units annually. However, with the arrival of the Gallardo that soared to around 2000 cars per year on average and with these increased production numbers, Lamborghinis can now be found on all corners of the globe.
With production of the Gallardo ending, Lamborghini will now be able to start modifying its production facility for the upcoming Lamborghini Cabrera. The Cabrera will succeed the Gallardo and is expected to be previewed earlier next year before hitting the production line in around a year's time.