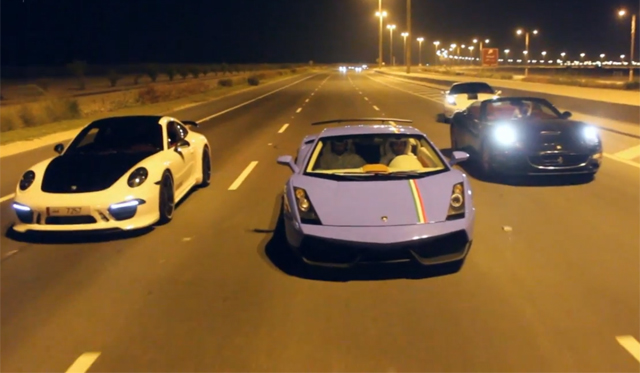 The next best thing behind driving a supercar would have to be getting into the passenger seat. The next best thing after that would have to be witnessing a selection of supercars on the road screaming past you. Then watching a host of awesome supercars from the Middle East at full throttle certainly has to come next and that is exactly what this video provides.
[youtube]http://www.youtube.com/watch?v=YETKjW11HS4[/youtube]
This clip is an upcoming trailer of a recent supercar cruise which took place in Doha, Qatar'. In fact, the trailer claims that this was the largest supercar cruise to ever take place in Doha so it goes without saying that we're very excited to see the finished product!
In the meantime, enjoy this trailer which features a selection of tuned Mercedes-Benz SLS AMGs, a rather unique light blue Lamborghini Gallardo Superleggera, a Ferrari California and a host of Porsches and even an ultra-rare Mercedes-Benz SLR McLaren 722 finished in matte blue!