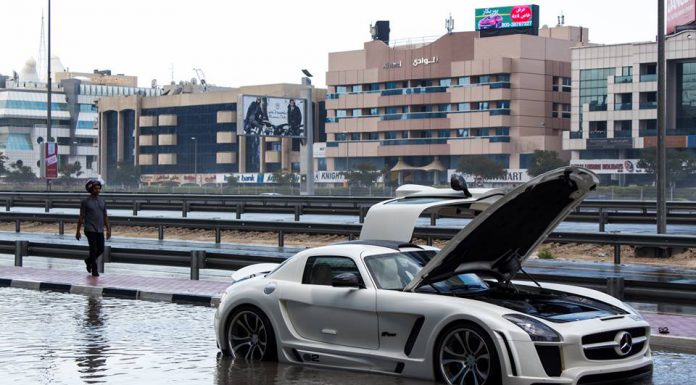 One of just a handful of Mercedes-Benz SLS AMG Gullstream's by Fab Design was recently caught out by a flash flood in Dubai which saw it get stuck in the middle of the road and seemingly left abandoned.
Fortunately for the owner of this SLS AMG Gullstream by Fab Design, the water level isn't too high with just the lower part of the upgraded bodykit and the wheels touching the water. With a thorough clean, the car should be restored to its former outlandishness!
In addition to the new bodykit which incorporates a new front fascia, front splitter, vertical daytime running lights, widened fenders and widened quarter panels, as well as a brand new rear fascia, bumper and aftermarket carbon fiber spoiler, the Mercedes-Benz SLS AMG Gullstream by Fab Design also features a handful of performance modifications.
Most significantly, the Gullstream sees a boost in power from its 6.2-liter V8 engine. In standard specification, the Mercedes-Benz SLS AMG produces 563 hp. However, that has been increased to 607 hp with torque lifted to 690 Nm at 4,600 rpm. Consequently, the SLS AMG Gullstream by Fab Design is said to launch front a standstill to 100 km/h in just 3.6 seconds and a top speed of 325 km/h.