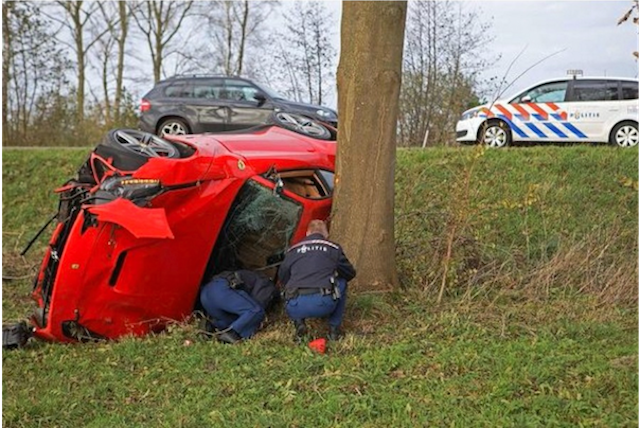 A Ferrari F12 Berlinetta has suffered horrific damage as a result of a heavy crash. The car was being piloted by its new owner and his grandson was riding in the passenger seat on a morning drive in Holland. Clearly the driver lost control and rolled the car down the steep grassy bank before the front of the car smashed into a tree.
The Rosso Corsa Ferrari F12 rested on its roof against the truck of the tree in a horrible state where both driver and passenger escaped without injury, testament to the safety and strength of the F12. Once recovered and taken away on the back of a truck, the true extent of the damage was made clear, the front end was squashed leaving the Ferrari looking very sorry. Rumour has it that the car may not have been insured, whether this is intact true or not, it is clear the owner will certainly not be very happy!
As a reminder, the F12′s V12 produces 730 hp at 8500 rpm and 509 lb·ft of torque at 6000 rpm, making it the most powerful road-legal Ferrari to date, only surpassed by the new LaFerrari hypercar. This results in the F12 to accelerate from 0 to 100 km/h in an officially reported 3.1 seconds.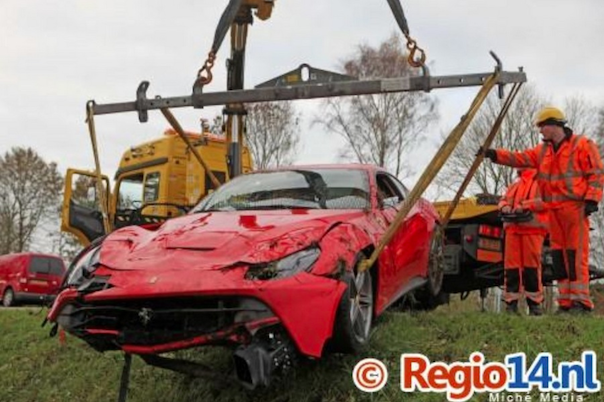 [Via: Regio 14 & Fotomix.nl]