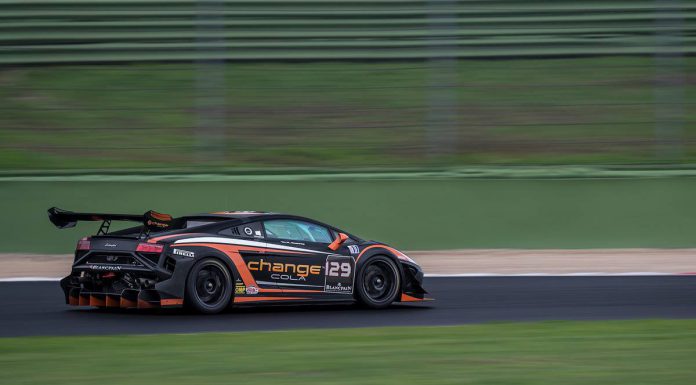 The first ever Lamborghini Super Trofeo World Final took place at the Vallelunga Circuit in Italy this weekend, an event that saw all the three series from Asia, Europe and the recent addition of North America participate on one circuit for a single title. There were two races that saw different champions emerge but the surprise again was set by US team GMG Racing who went home with the Lamborghini Blancpain Super Trofeo World Title courtesy of their rookie driver Andrew Palmer, who was only in his fourth Super Trofeo race.
Veterans like Andrea Amici and Adrian Zaugg started race one in the lead, with Zaugg leading during the first half. The race started with a safety car due to the wet conditions which would continue all the way till race two. Amici managed to take the lead in lap 16 while Palmer followed closely to finish second. Third was Japanese driver Manabu Orido while fourth came Alberto Viberti of Composit Motorsport who had suffered a drive through penalty.
Race two saw a turn of events with Palmer and European champion Amici fighting to maintain their positions. As for Palmer, he needed to be in the lead and that's what he was going to do. Palmer eventually lost P2 to Orido on lap six, and this left Orido challenging Amici for the lead, with a close watch from Zaugg and Enjalbert. The pit windows opened and the top positions were shaken, Amici was now in P7 with De Nora leading the field.
Alberto Viberti took the lead shortly after but that did not last long as he was slammed with a stop go penalty. Orido took the lead while Amici's hopes of a world title were killed after slipping of the track with technical problems, meanwhile, Palmer was closing in tightly and he managed to take the lead in the final four laps. Meanwhile, Composit Motorsport's Alberto Viberti finished fourth and won the world title in the Amateur category.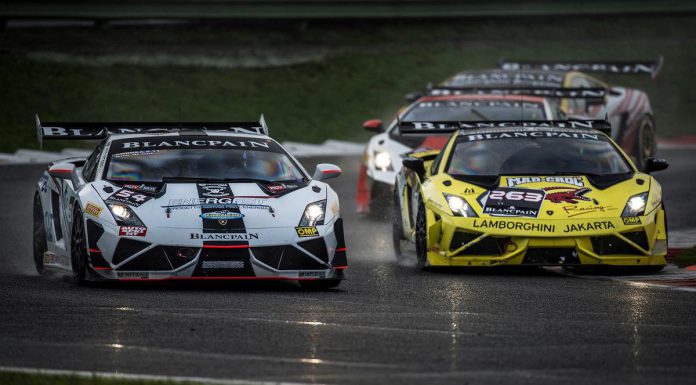 Drivers' Quotes:
Andrew Palmer #114, GMG Racing (North America) Race 1 – P2/Race 2 – P1
Lamborghini Blancpain Super Trofeo World Champion
It's such a surreal feeling to be Champion and the whole of this weekend has been amazing – I am not sure that the reality has really sunk in just yet! What happened today was the best possible outcome we could have hoped for and I am thrilled with what we have achieved here together with GMG Racing. I hope it will be a springboard for more racing with Lamborghini in the US and all over the world, but I must also remember that on Monday, I have to go back to school! That's going to be quite weird after this unbelievable finish to the season.
Alberto Viberti #47, Composit Motorsport (EUROPE) Race 1 – P4, 1st Amateur/Race 2 – P4, 1st Amateur
Lamborghini Blancpain Super Trofeo Amateur World Champion
It's such a good feeling to be Lamborghini's Amateur World Champion, although I reckon we could have done better than fourth in the two races, it was so close. This finishes a season that has been an incredible experience, during which my abilities have grown with every race, especially since deciding to race on my own from Spa onwards. Already I am itching to get back to it and keep improving and I won't be able to wait for the start of next season!