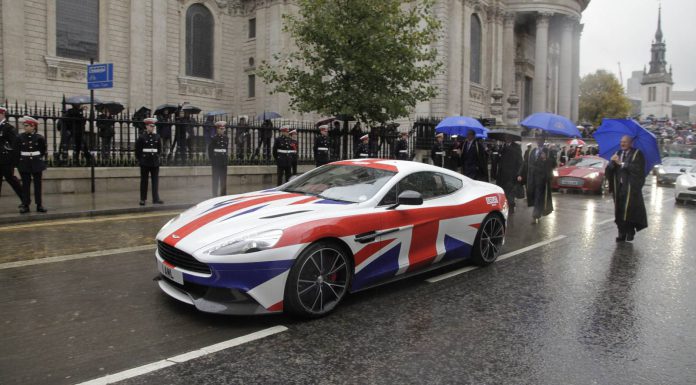 Aston Martin is Britain personified in a number of ways. To start with it has a long line of legendary heritage, it is classy, stylish, subtle yet strong and it will often break down (well they used to anyway!). As part of their centenary celebration, Aston Martin sent six of their finest model to the Lord Mayors Show this year (a very British affair of course).
One car took the marques British roots to another level. Welcome the Aston Martin Vanquish that is actually wearing Union Jack to show its support for the ongoing GREAT Britain campaign! The car led the Aston procession past a number of London's most famous and historical monuments.
Whilst the Vanquish may have crawling along behind a procession of old vehicles, horses and dignitaries the driver must have had to show a lot of restraint as the Vanquish is very capable of going very fast! The all-alloy front-mid mounted 5,935cc V12 engine has independent quad variable camshaft timing. The engine produces 573 hp at 6,750 rpm and a maximum torque of 620 Nm at 5,500 rpm. The zero to 100 km/h sprint is done in 4.1 seconds and the top speed is 295 km/h, the latter of which is just shy than that of the hardcore DBS.