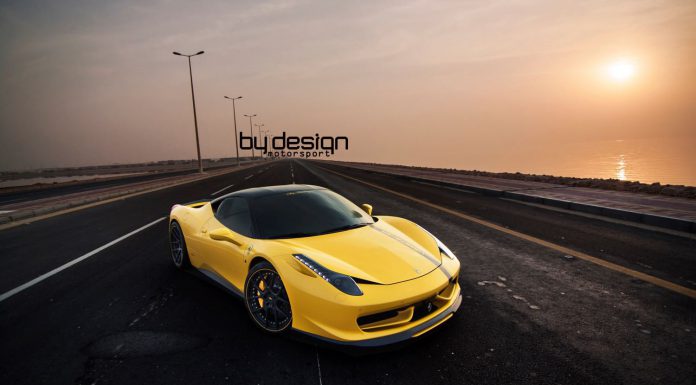 The Ferrari 458, one of the most balanced, best looking and most desirable Ferrari's to leave the Italian marques Maranello factory in years. Tuners Vorsteiner look the pretty mid-engined supercar and created the Vorsteiner Ferrari 458-V Package, a kit that added a number of carbon fiber aero parts to the clean lines of the original car with a hint of added aggression.
Now ByDesign Motorsports have taken the Vorsteiner 458-V and added even more dynamic touches to it. This 458 includes Vorsteiner's front lip, rear diffuser and spoiler, all finished in beautifully crafted carbon fiber.
This giallo car in Qatar has been fitted with ADV.1 Wheels and an Akropovic exhaust system that lets the Ferrari howl and bellow, a system that will turn heads from a considerable distance. For a touch more contrast a thin black stripe has also been applied. We certainly approve!