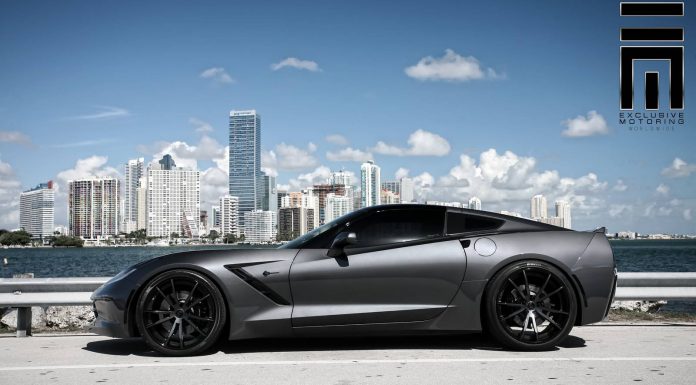 Exclusive Motoring have presented their latest project, a Cyber Gray Chevrolet Corvette Stingray! For this latest project, Exclusive motoring have fitted a set of Forgiato Wheels, f2.01's measuring 20 inches at the front and 21 inches at the rear with a two-tone finish.
Elsewhere, the car has also undergone a 'stealth' conversion. All chrome exterior trim has been painted to black as well as the badges and the exhaust pipes. The rear tail lights and front/rear side lights have all been smoked to match the theme. Finally, the car sits closer to the ground thanks to lowered suspension!
The Chevrolet Corvette Stingray has been lauded by those that have driven it as thoroughly modern. Chevrolet essentially threw away the old platform and started from scratch. The Stingray therefore includes an LT1 6.2 litre V8 engine with 460 hp and a choice of 7-speed manual or a 6-speed automatic with paddle shifters. Despite weighing more than the outgoing model, it performs better due to the increased power!