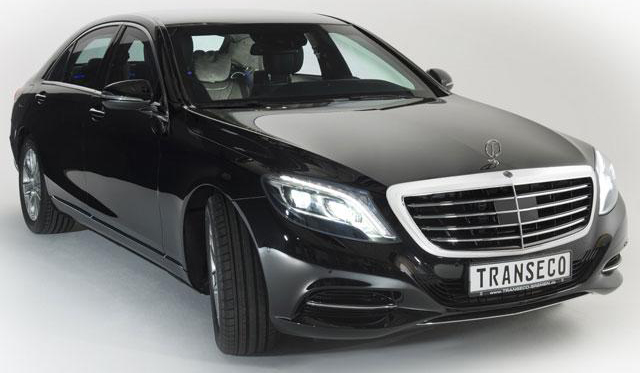 After experience both the standard 2014 Mercedes-Benz S-Class and 2014 S63 AMG this year, it is apparent that both are market leaders when it comes to automotive technology, comfort and luxury. Consequently, wealthy individuals all over the world will inevitably go mad for the new S-Class. As a matter of fact, people have already gone mad for the new car with more than 30,000 orders placed!
However, where do you turn if you want the new 2014 Mercedes-Benz S-Class but have made a few enemies in the past or live in an extremely violent country or city. Well, you can turn to Transeco who have just revealed their armouring program for the new Mercedes-Benz S-Class.
Dubbed the 2014 Mercedes-Benz S500L by Transeco, the vehicle features a ballistic protection level of 7. In other words, the armoured Transeco S-Class can withstand rounds from a .357 Magnum to 5.56 x 45 mm rounds being sprayed out at from an automatic rifle.
This improved safety has been achieved with laminated and bulletproof windows, armoured pillars as well as underbody protection. Additionally, the car features armour plating around some of the most important electrical components in the engine bay. A self-sealing fuel tank is also featured.
Completing the changes are run-flat tyres, high-performance brakes and upgraded suspension.