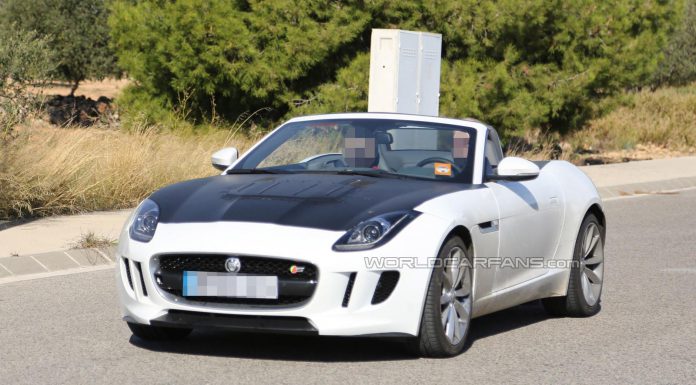 A mysterious prototype for the popular and recently released Jaguar F-Type was recently spotted testing. Differentiating this F-Type from the regular variants currently on the road is a new hood which is reportedly hiding a brand new engine.
For some time, rumours have been circulating suggesting that a four-cylinder Jaguar F-Type was in the works and that is exactly what this prototype is said to be hiding. Hopefully we won't have to wait too long to see a spy video of the same prototype to hear for ourselves if it sounds like an entry-level four-cylinder powertrain!
GTspirit Road Test of 2014 Jaguar F-Type V6

Because Jaguar has yet to release any confirmation or specifications about this possible four-cylinder Jaguar F-Type, it is hard to say just how potent it is. However, if rumours are to be believed the entry-level Jaguar F-Type could sport a 2.0-liter four-cylinder engine producing 240 hp and 251 lb-ft of torque. As it stands, the basic F-Type is fitted with a supercharged 3.0-liter V6 engine pumping out 340 hp and 332 lb-ft of torque.
While the four-cylinder car will be well down on those figures in terms of performance, it will undercut the price of the Jaguar F-Type V6 quite significantly. Whenever this new engine does arrive, expect it to be available for both the convertible F-Type and the upcoming coupe.
[Via World Car Fans]