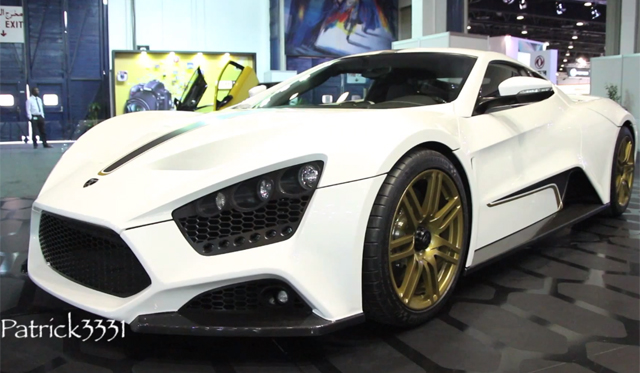 The Zenvo ST1 is just one of numerous supercars to be produced by a relatively unknown manufacturer promising market redefining performance but never really being delivered universally and rarely driven by the automotive press to test out its claims. Nevertheless, from a visual perspective, the Zenvo ST1's presence is simply undeniable with it combining traits from other current supercars like the Audi R8 in an ultra-futuristic package unlike any other.
Well, the Danish supercar is currently on display in white at the ongoing Dubai Motor Show 2013 featuring some unique gold wheels and gold and black pinstripes across the car to separate this Zenvo ST1 from the other 15 units pinned to be produced.
[youtube]http://www.youtube.com/watch?v=GI1jaUvEiss#t=40[/youtube]
Despite initially being released back in 2009, it is not yet known just how many units of the Zenvo ST1 have been produced. However, no matter how many have been sold and delivered, on paper the Zenvo ST1 promises to be a truly brutal supercar.
Powered by a turbocharged and supercharged V8, the car produces 1,104bhp and 1430nm of torque. That's more than a Bugatti Veyron! Having both a turbo and supercharger is nothing new, Volkswagen have been using this idea for a while in their TSI models and Lancia used to use it for their Delta S4, but by using this design Zenvo can have both high levels of horsepower and high levels of torque.
Couple the power output with the cars relatively low weight of 1376kg compared to the Veyron's 2041kg bulk, it is one of the fastest cars on the planet! It's still not a light as the 1,249kg of the SSC but we'll forgive it on the basis of it looks. A power to weight ratio of 802bhp per tonne is very impressive and Zenvo claim this could propel the car to 62mph in 3 seconds. There's a limiter on the top speed to just 233mph (375kph) which we presume is because the design of the car only allows only for this.