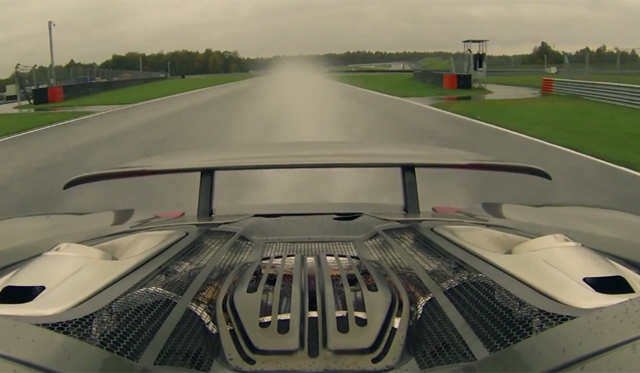 As part of the Porsche 918 Spyder's ongoing travels around the world to drum up potential buyers, the German supercar recently hit the track at an exclusive event in Moscow, Russia.
Porsche has released the following video showcasing the Porsche 918 Spyder hitting the racetrack while also providing us a glimpse into the world of exclusive supercar previews!
[youtube]http://www.youtube.com/watch?v=jIkRz9rRf34#t=29[/youtube]
The Porsche 918 Spyder comes fitted with a mid-mounted 4.6-litre V8 engine producing 608hp independently – the highest specific power of any naturally aspirated Porsche engine. The V8 is then supplemented by a further two electric motors mounted on each axle. The electric motors can either drive the wheels independently or work together with the engine to boost performance. Each motor produces enough power to boost the total figure to 887hp. A seven-speed Porsche Doppelkupplung (PDK) controls power delivery to the rear wheels.
The Porsche 918 Spyder gets five operating modes, which can be activated via a map switch in the steering wheel, just like in race cars. The first is "E-Power" which uses the electric motors as much as possible and is engaged from startup. In "Hybrid" mode, the combustion engine and electric motors operate alternately with a focus on optimising fuel consumption. In "Sport Hybrid" mode, the combustion engine now operates continuously, representing the main propulsive force.
"Race Hybrid" is the mode for maximum performance. The combustion engine is chiefly used under high load, and charges the battery whenever the driver does not require maximum power. The electric motors provide additional support in the form of boosting in this mode too. PDK also becomes sharper in this mode.
The "Hot Lap" button in the centre of the map switch releases the 918 Spyder's final reserves and can only be activated in "Race Hybrid" mode.