The 2014 BMW M235i may have only been official revealed just over a week ago, but a rendering depicting a drop-top variant of the car has already been created.
Dubbed the BMW M235i Cabriolet, it is possible that such a car could be produce by the German automaker soon considering many of its other M variant cars are available both as coupes and cabriolets. However, the BMW M235i has been designed to replace the BMW M135i and that car was never produced with a drop-top version meaning the M235i could go down the same road.
Either way, if a BMW M235i Cabriolet was ever created, it would feature the same features as the coupe albeit with a soft-top. The BMW M235i features a twin-scroll turbocharged 3.0-liter in-line six-cylinder petrol engine producing an impressive 321 hp. As a result, when fitted with the standard six-speed manual transmission, the 2014 BMW M235i can hit 100 km/h in a brisk 5 seconds. However, that time falls to 4.8 second when optioned with the eight-speed automatic gearbox.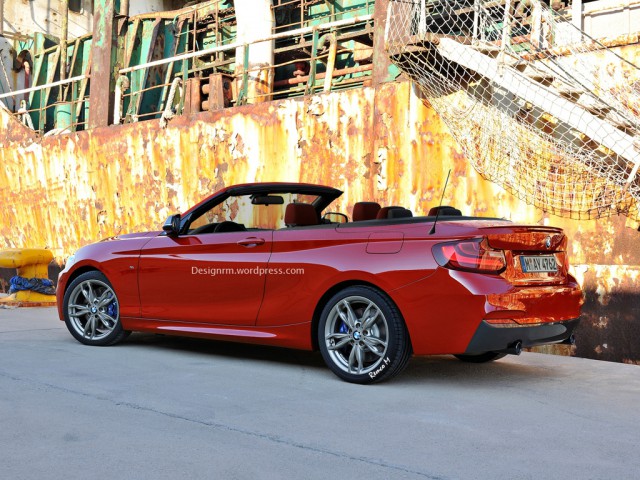 The new BMW 2-series coupe range as a whole replaces the 1-series coupe and incorporates all-new styling to help make it fit better in-line with the styling of the new 3-series and 4-series. All 2014 BMW 2-series models released thus far are 4432 mm in length, 1774 mm wide and 1418 mm higher. That means the car is 72 mm longer than the outgoing BMW 1-series coupe, 24 mm wider and 7 mm lower.
Returning to the 2014 BMW M235i, it tips the scales at 1455 kg which is actually 105 kg heavier than the base BMW 220i. Nevertheless, the car still achieves an impressive 34.9 mpg in the U.K. and delivers a potent 332 lb-ft of torque at just 1300 rpm.
[Via Design RM]