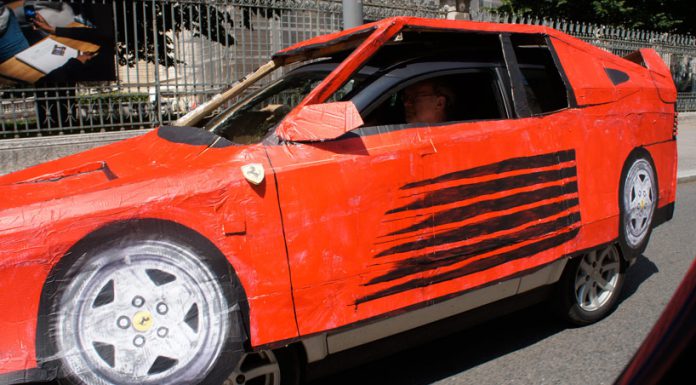 So what happens when you have the passion for supercars, in particular Ferraris and you want to show the world your passion without actually purchasing a real Ferrari. Well, if you're French artist Benedetto Bufalino you create the following cardboard Ferrari Testarossa replica.
While it could be argued if it really is a piece of art, it is certainly unique. It was created simply out of cardboard, paint and a bit of foil and looks like a life size cardboard car you used to run around in as a child.
It then features cut-outs where the windscreen and side windows would normally sit to allow the driver to see out of. Oh yeah, didn't we mention, this isn't just a showpiece to show your friends and keep stored in your house, it has actually been designed to fit snuggly around Bufalino's compact two-door and driven on the road!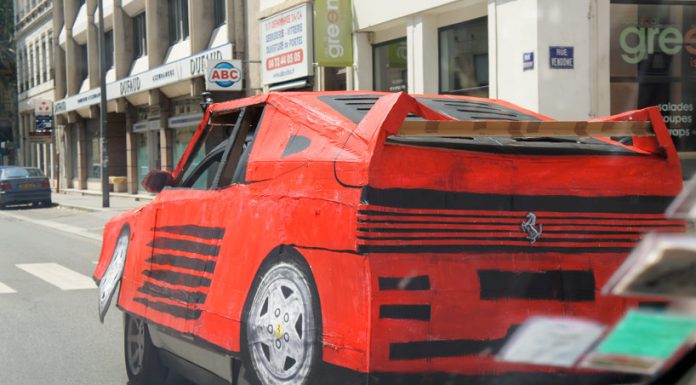 Unfortunately, the car looks nothing like the real Ferrari Testarossa produced from 1986 through to 1996. Powering the regular Ferrari Testarossa from 1984 through 1991, was a 4.0-liter mid-mounted flat-12 engine producing an impressive 390 hp and 361 lb-ft of torque at 4500 rpm. Consequently, the Ferrari Testarossa could hit 100 km/h from a standstill in a brisk 5.3 seconds.