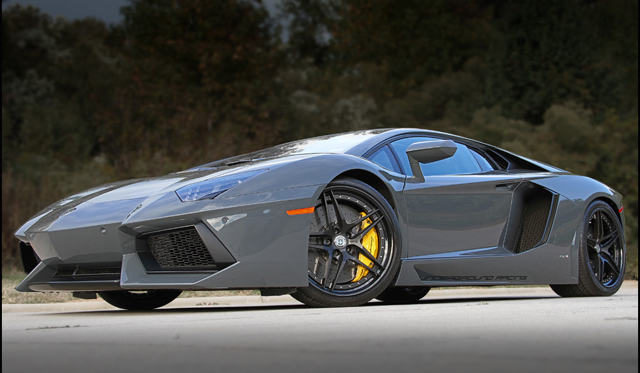 In terms of brutal twin-turbo Lamborghini tuning, no company does it better than Underground Racing. Originally making a mark in the tuning scene with their insane twin-turbo Lamborghini Gallardos each producing well over 1000 hp, the company now upgrades an assortment of other supercars to well over double their standard performance outputs.
In mid-last year, Underground Racing ventured into the already epic Lamborghini Aventador and created arguably the most insane tune ever seen on the Aventador, Since then, the package has become available for customers and this grey Lamborghini Aventador is the latest to receive the potent upgrade.
Underground Racing offers two twin-turbo kits for the Aventador. The first is the Stage 1 Aventador twin-turbo system which sees power increase from the standard 692 hp at the flywheel to 1000 hp at the wheels while running on 93 octane. Additionally, you can order the car with the Race package which sees power increased to 1250 whp on 93 octane and 1550 whp on race fuel. This latest Aventador tuned by Underground Racing has received the Race package. When producing around 1200whp on pump gas, the Lamborghini Aventador twin-turbo by Underground Racing hits 100 km/h in a scarcely believable 2.2 seconds!
Complementing the increase in performance are a set of nice black HRE wheels.