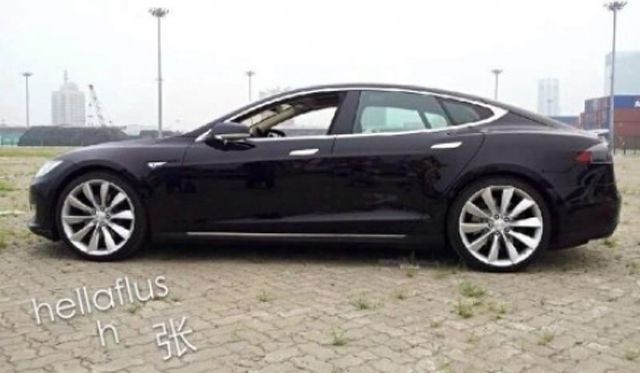 The very first Tesla Model S has arrived in China but it is said that the owner paid quite the premium.
This black Tesla Model S is believed to have been imported directly from the United States as Tesla Motors has yet to officially unveil the electric sedan to the Chinese market.
It was recently announced that Tesla had ran into a hurdle with its plans to enter the Chinese market. As a result, the buyer was hit with some hefty delivery charges as well as local taxes meaning he paid around 2.5 million yuan. That is the equivalent of over $400,000 in the U.S. What's more, Tesla has yet to begin its roll out of the supercharger network across China meaning this owner will have to put up with his regular household power point to charge the vehicle.
Whenever Tesla does officially enter the market it could face a few issues as it turns out, 'Tesla' has already been trademarked in the booming Asian nation meaning the real Tesla Motors will have to fork out quite a bit of money to get the rights to the Tesla name in China.
The 'Tesla' name was originally trademarked in China by Zhan Baosheng back in 2009 for land, air and marine transportation vehicles of 12 different categories. This isn't the first time the California-based electric car manufacturer has had troubles with trademarks in China, as 'TESLA MOTORS' was already trademarked there by Qiao Weiwei who recently sold the name to Tesla on May 6 this year.
If that wasn't bad enough, the domain names tesla.com.cn and teslamotors.com have both been registered in China before the company could snap them up.
[Via SCMP]