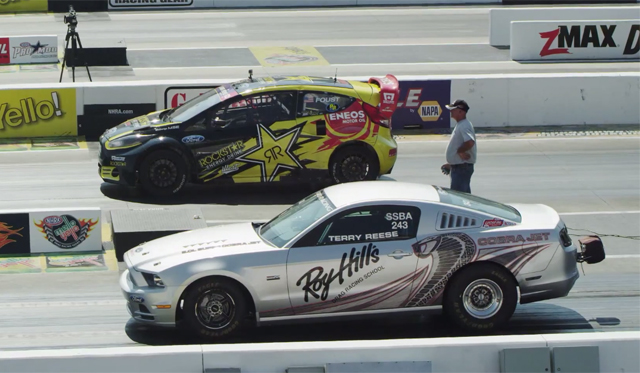 In terms of vehicles capable of insane acceleration and based on road-going cars, few can beat the might of the Ford Mustang Cobra Jet or the selection of cars which compete in Rallycross. As a result, Ford decided to pit those two cars together to create the following epic drag race!
To stage the event, Top Gear US host and rallycross competitor Tanner Foust was invited along with his global rallycross Ford Fiesta ST. While a small Ford Fiesta ST rallycross car and the Ford Mustang Cobra Jet may seem worlds apart, both are successful in their respective fields.
[youtube]http://www.youtube.com/watch?v=SvqDx6kgNM4#t=156[/youtube]
The Ford Fiesta ST is powered by a 550 hp 2.0-liter turbocharged engine mated to an OMSE transmission with extremely close ratios and an all-wheel-drive system. By comparison, the Cobra Jet features a 5.0-liter V8 engine topped off with a Ford Racing 2.9-liter Whipple supercharger!