A stunning line-up of 11 Lamborghini's and Ferrari's lined up in color order sitting pretty in a row. If you're thinking that this has been arranged by a mulch-millionaire petrol-head with too much time on his/her hands then you may want to think again. The cars you see in the photos were lined up by Police in Malaysia after the collection was impounded for not having paid the correct import taxes.
Taxes on imported cars in Malaysia are the highest on the planet. Some car owners even take a nine-year loan just to pay off a basic car such as a Honda Civic so it is no surprise that tax dodging is a common affair in the country. For cars with engines larger than 2500cc (obviously all the supercars photographed here) the exercise tax is an whopping 105%!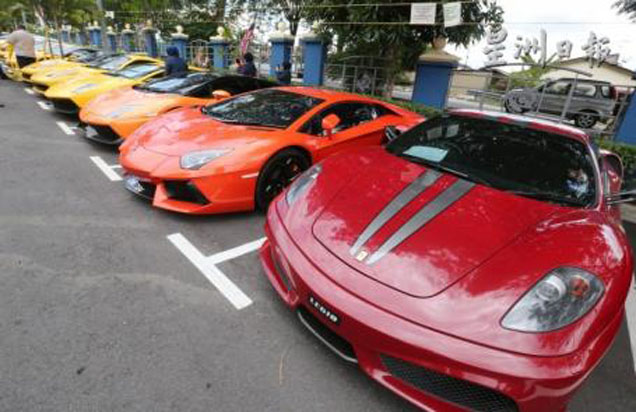 This means the Ferrari 458 Italia (two Giallo cars in this collection) that would normally cost around €200,000 with a few extras would cost more than double that in Malaysia. The owners eluded the tax on their cars by registering them in the United States and then shipping them into Malaysia. The government experts realized what had happened and confiscated the collection that included the brutal Lamborghini Murcielago LP670-4 SV. Other cars include a Lamborghini Aventador, Ferrari 430 Scuderia, Ferrari 458′s, and Lamborghini LP570-4 Superleggera.
The cars will be returned to their owners once the hefty taxes plus fines have been paid. Apparently these 11 cars are just part of the first batch of cars that are due to be seized and 11 more are on the way. Ouch.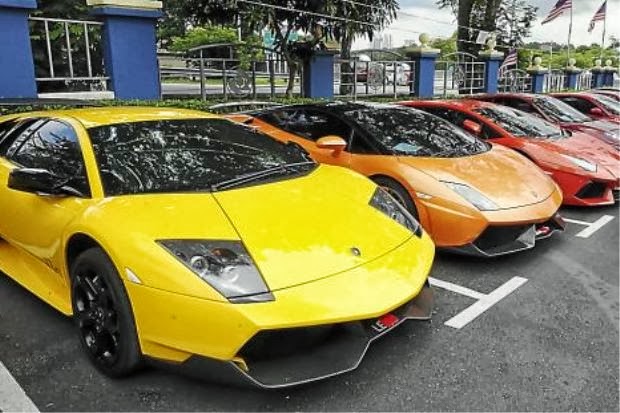 [Via: Anak Sungai Derhaka]