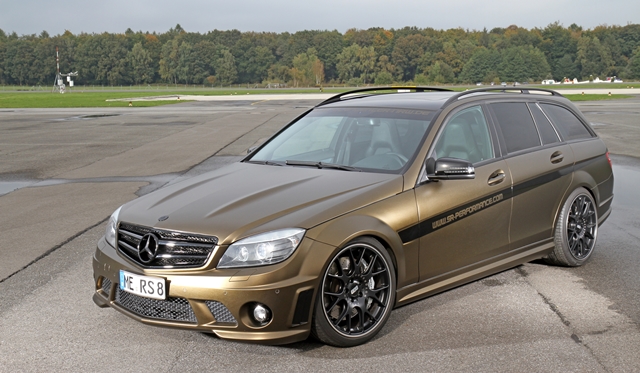 In cooperation with the local tuning company SR-Performance, Car Wrapping specialists at FolienCenter-NRW from Germany presented their latest work: a modified, matt gold Mercedes-Benz C63 AMG station wagon.
The tuning specialists from SR-Performance are responsible for the technical upgrade of the powerful AMG T model. Thanks to air filter inserts from BMC and Milltek racing catalytic converters with pre-catalytic converter replacement pipe and a complete reprogramming of the engine software, the technicians of SR performance boosted the power of the Mercedes-Benz C63 AMG to 540 hp and the maximum torque to 665 Nm. To complete the performance upgrade, they add a Bilstein B16 PSS 10 coilover kit and a set of high grade and super light BBS CH-R wheels.
FolienCenter-NRW is responsible for the optical preparation of the C63 AMG's wrap. The car-wrapping experts endowed the bodywork with a wrapping in "Matt Bond Gold Metallic" from the PWF portfolio. The roof, roof luggage rails and the door handles were wrapped in glossy black as contrast to the main color. Even the shadow line optics was "retrofitted" with glossy black wrapping. A little classical black paint was also used in this reconstruction work in spite of the generous wrapping, namely on the radiator cowling including the Mercedes star, the external mirrors and the covers around the fog lights.