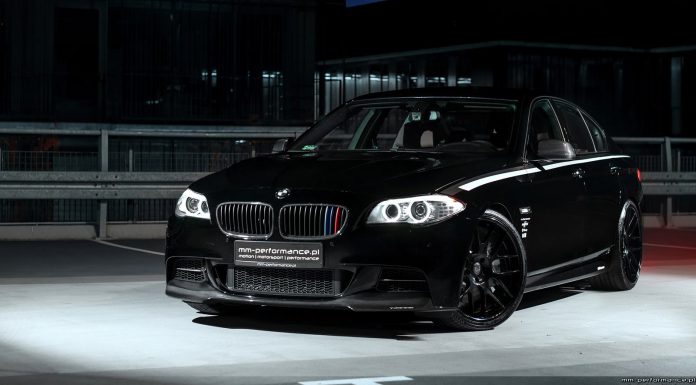 The 2013 F10 BMW M550d XDrive (a long name indeed!) is an exceptionally well rounded car. It is a fast, comfortable, sedan with all-wheel-drove so it can be driven in anger in most weather conditions all year round. It can settle into a brink cruise or tear its way down the Autobahns in spectacular ease and refinement, has a sporty appearance and character all whilst being insanely economical! All sounds great.
But for a car that feature not two but three turbochargers and is capable of hitting 100km/h in just 4.7 seconds (yes, in a diesel!), it all looks a little dull and similar to a 520d with an M Sport Kit.
MM-Performance, based in Poland, have revealed a black M550d with that look very different thanks to the utilisation of parts from a number of tuners.
Lets start with the stunning wheels, forged three-piece Twist gloss-black Vorsteiner VS-340 21″ both front and rear. That is not all that Vorsteiner have contributed to the black beast; the rear, front and roof spoilers have all been sourced from the tuner and all are finished in the highest quality of Carbon Fiber.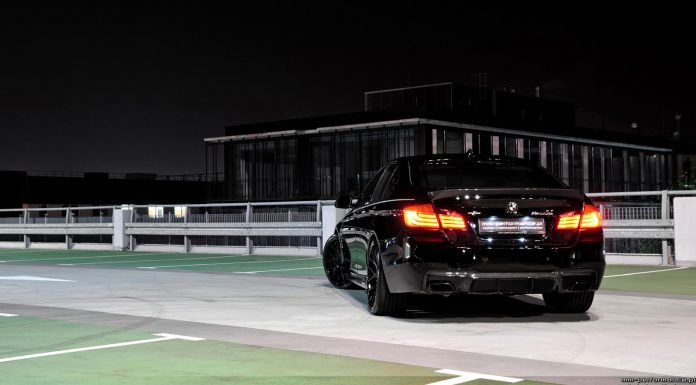 Official M Performance parts have also been used. The Carbon wing mirrors and very alluring body stripes were supplied by BMW. On the inside the sport Alcantara steering wheel, centre console and riser are all also from the M Performance division.