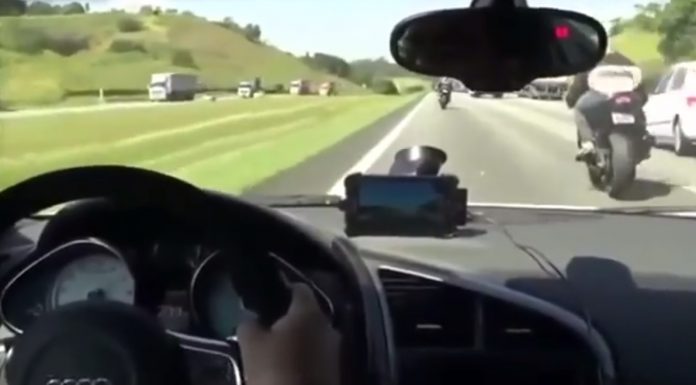 A video was recently uploaded to YouTube which shows an Audi R8 V10 embroiled in a race with two motorcycles on a Brazilian highway. It isn't clear when the race too place but it sure shows the advantages of four wheels over two!
Just so that we are clear from the start, we don't condone this sort of driving, especially in heavy traffic. It should be left to the movies or the racetrack. That said, this particular video is interesting for the reason that it shows you the limitations of the two-wheeled motorcycle over the four wheel Audi R8 V10.
[youtube]http://www.youtube.com/watch?v=Y2HKBQMQmbw[/youtube]
The Audi R8 V10 features a 5.2 litre V10 engine with 600 hp. It seems that this car has been upgraded slightly as the standard Audi R8 V10 comes with just 525 hp. The bikes include a 1,000 cc Suzuki GSXR with 185 hp and a 1,000 cc Kawasaki Ninja ZX 10R with 210 hp. Despite the power disadvantage, they are more than a match for the R8 V10.
It is quite a funny watch as the driver obviously scares his female driver with his erratic driving. It is of course, fortunate the neither biker nor driver lost control of their vehicles.