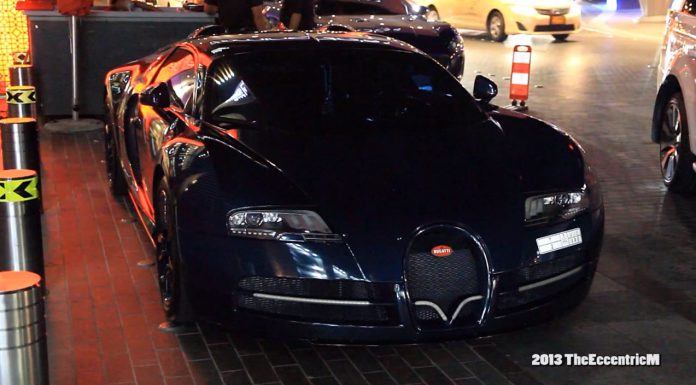 A brand new Mansory Bugatti Veyron Empire Edition has been spotted in Dubai. The Empire Edition is the third customised Veyron to leave the Mansory workshop. We believe that this example is based on the standard Bugatti Veyron with all the usual Mansory trimmings. We had heard rumours of this car before and now that it is confirmed, we have to say it looks pretty good!
The Mansory Bugatti Veyron Empire Edition looks to feature a complete set of carbon fibre body panels. The finish is dark blue this time and Mansory have even fitted carbon fibre air intakes to replace the metal versions on the standard Veyron. Like the Mansory Linea Vincero's that came before it, this car features a slightly modified front air intake with LED daytime running lights and a redesigned set of front wheel arches. Even the wheel look awesome, we're not sure if they are complete carbon fibre or if it is just a finish!
[youtube]http://youtu.be/l8cAJ9mxZqk[/youtube]
Unfortunately we haven't yet worked out what the interior looks like. We are hoping that it is tasteful. Previously, Mansory made the Mansory Bugatti Veyron Vincero which went on display at Prestige Cars in Dubai. That car, we think, currently resides in Russia and features a part carbon fibre, part chrome finish.
The other car is the Mansory Linea Vincero D'oro which has been generating a lot of attention recently after property mogul Manny Khoshbin imported it into the US. It also has a distinctive finish with a solid grey carbon fibre body and a set of contrasting gold accent striping and a set of gold alloys.
We're not sure how many more Bugatti Veyron's Mansory have in the works but hopefully this latest Mansory Bugatti Veyron Empire Edition isn't the last. They have been producing some truely incredible cars just lately and we hope they continue.