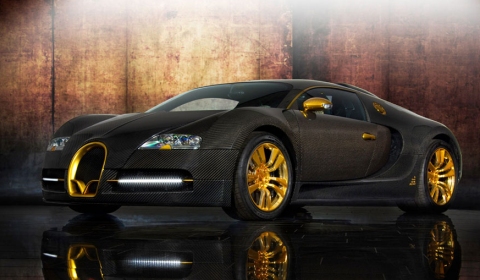 After unveiling their first Veyron-based model in March 2009, Mansory are back with another limited edition take on the Bugatti Veyron 16.4. The first car was transformed into the Linea Vincero, the second one gets a rather 'special' gold-coloured treatment. It is named Linea Vincero d'Oro.
Compared with the standard Veyron, the Linea Vincero received a facelift. Up front, Mansory added new fenders, a shortened bonnet and a new front apron as well as LED daytime running lights and a stylised letter "V" built into the car's bonnet. Side skirts and a new diffuser are also part of the new design. Larger air outlets at the rear and at the sides of the car improve the engine cooling. All body components are made from a carbon fabric with inbuilt copper thread.
Other gold-coloured features complete the Linea Vincero d'Oro, such as the turbine design alloy wheels, the curved grill featuring the stylised "Vincero-V", the door handles, the rear view mirror caps and the fuel tank cap. The headlight washer nozzle covers, the borders around the daytime running LEDs and the decorative features on the roof are all gold too.
The car's interior has an exclusive look and feel with the LEDs of the car's mood lighting system placed in the car's seats, the door trims and the dashboard. The entire passenger cabin is a combination of a golden glow of the lighting and carbon appliqués as well as specially embossed leather. The airbag steering wheel has inbuilt shift paddles and gilded elements. Gold alloys can also be found on the decorative strips of the door trims and on the centre console.
The price of this 'unique' piece of hypercar tuning is unknown. Please contact Mansory for more information!