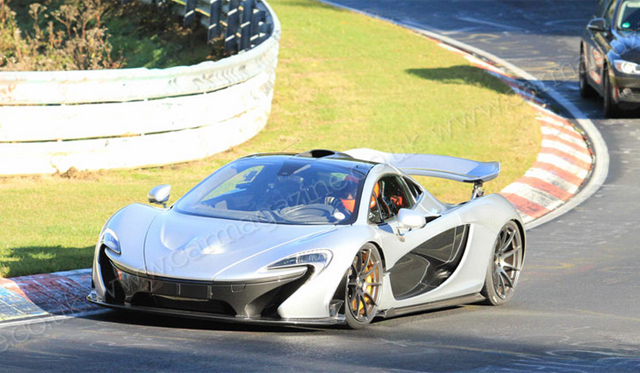 The McLaren P1 has returned to the infamous Nurburgring with one thing in mind, to set a new production-car record. The McLaren P1 'XP2R' prototype has been spotted at the testing facility earlier this year, but reports suggest this latest round of testing aims to trump the Porsche 918 Spyder's recent 6 minute and 57 second lap time around the track.
According to McLaren however, this final round of testing is being done for final tweaks and development even though P1s have begun rolling off the production line. If this is true, then any final performance advantages found will be outfitted at a later date for those P1s to have already been produced.
By contrast, Car Magazine's spy photographer claims that this McLaren P1 was going at ten-tenths and was the fastest road car he'd ever seen at the track. Previous reports suggested that McLaren had been unable to achieve it claimed sub-7 minute lap, so this final round at the Nurburgring could be the company's final chance. Behind the wheel of the prototype is the company's chief test driver Chris Goodwin.
Interestingly, the spy shot we have above showcases a BMW sedan in the background indicating that McLaren has yet to hire out the facility for one banzai lap like Nissan recently did with the 2014 GT-R Nismo.
[Via Car Magazine]