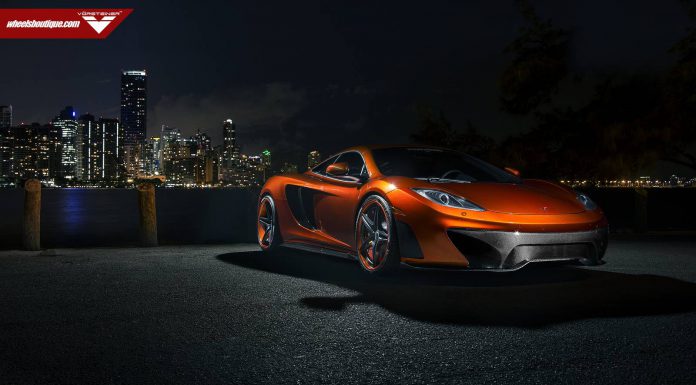 While the stock McLaren 12C may be lacking in terms of aggressiveness compared to rivals such as the Ferrari 458 Italia and Lamborghini Gallardo, the McLaren MP4-VX by Vorsteiner bodykit for the 12C rectifies that problem.
Following our recent Photo Of The Day of a volcano orange McLaren MP4-VX by Vorsteiner at night, the full gallery of the stunning photoshoot has been revealed!
From a visual standpoint the McLaren MP4-VX by Vorsteiner features a redesigned front end incorporating a slightly modified carbon fiber front bumper and a new carbon fiber splitter. Additionally, the McLaren MP40VX by Vorsteiner features brand new carbon fiber side air intakes which perfectly suit the selection of other carbon fiber components on the car!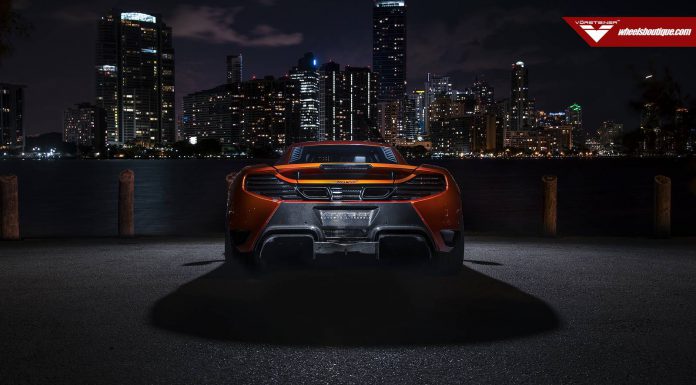 The McLaren MP4-VX by Vorsteiner then features aggressive carbon fiber side skirts as well as dark 20-inch front and 21-inch rear alloy wheels. While the front end remains fairly subdued, the real action takes place at the rear of the McLaren MP4-VX by Vorsteiner with it incorporating a new carbon fiber tail including a far more aggressive carbon fiber rear diffuser, additional carbon fiber air intakes behind the rear wheels, as well as the addition of a carbon fiber rear wing on top of the standard airbrake.
Let us know if you think this looks better than the standard 2013 McLaren 12C below!