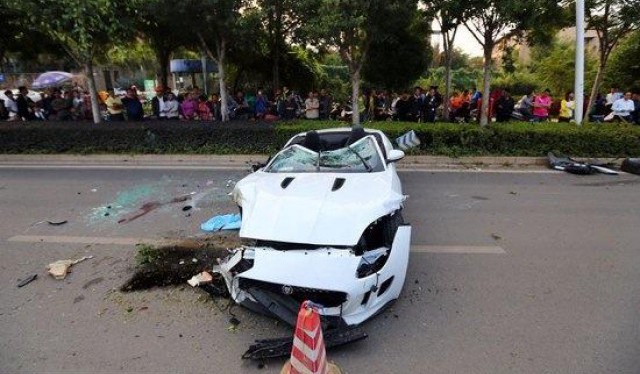 We spotted an accident involving a Jaguar F-Type in China yesterday. The pictures were too graphic to share with you so we decided not to bring it to your attention, until this morning when a reader sent in the photos you see here.
The accident happened yesterday in Kunming, China when the driver of the F-Type lost control of his car. The car veered off the road, hit two trees, a lampost, a pedestrian and the back of a passing Volkswagen Lavida before coming to a rest where you see it now.
From the pictures, you can see that the whole incident was very public, attracting the attention of a large crowd. Unfortunately, it seems that the police did nothing to shield the scene from the public and most photos reveal the pedestrian lying on the ground next to the car. For obvious reasons, these have not been included here.