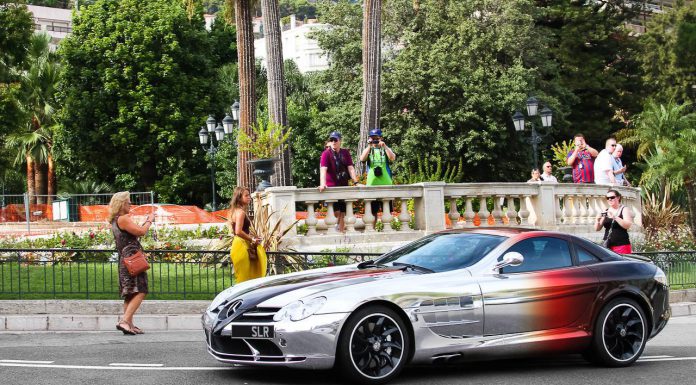 The Mercedes McLaren SLR is powered by 5.4 liter V8 equipped with a supercharger. The hand-built AMG engine has been shoe-horned into the engine bay behind the front axle and delivers 626 horsepower at 6,500rpm. The maximum torque of 780Nm feels spectacular as the car surges forward, it is available from 3,250rpm and remains at this level up to 5,000rpm.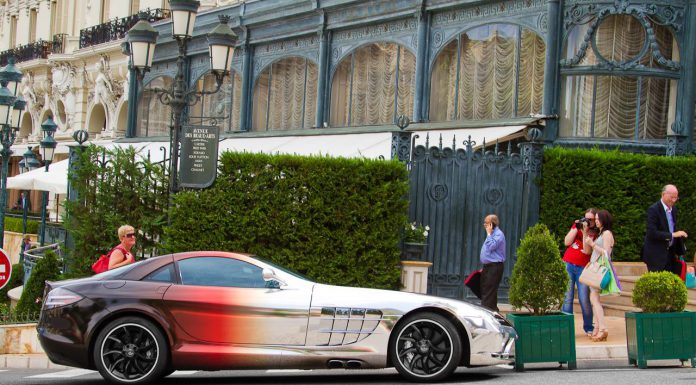 The astounding power and torque produced by the engine is enough to launch the SLR from standstill to 100km/h in 3.8 seconds, although is has been reported in some tests that the car could accelerate even faster! The SLR reaches the 200km/h mark after a stunning 10.6 seconds and the 300 km/h is hit in 28.8 seconds. The quarter mile is done within 11.2 seconds and the top speed is at 334km/h.
Enough of the stats and figures though and more on this rather bizarre yet strangely appealing wrap! The British car was spotted in Monaco and featured a unique wrap. The front end of the car is finished in chrome, nothing uncommon. But as the wrap reaches the beautiful gills on the flanks of the supercar it begins to blend into an orange the red and carries on into a brown and finally black as the wrap reaches the rear of the car. This remarkable colour scheme makes it seem as if the car has been burnt the further back you view the car from!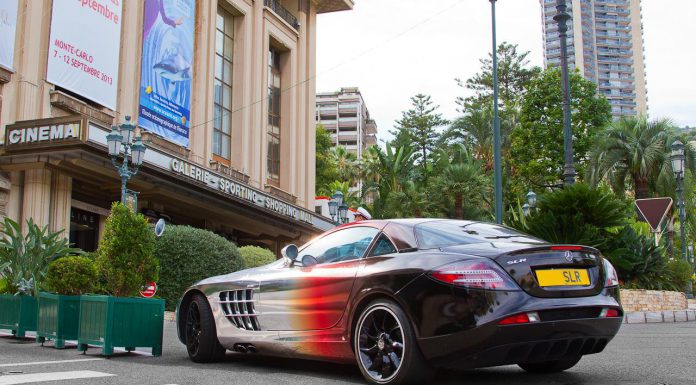 These sublime images were captured by Raphael Belly Photography.