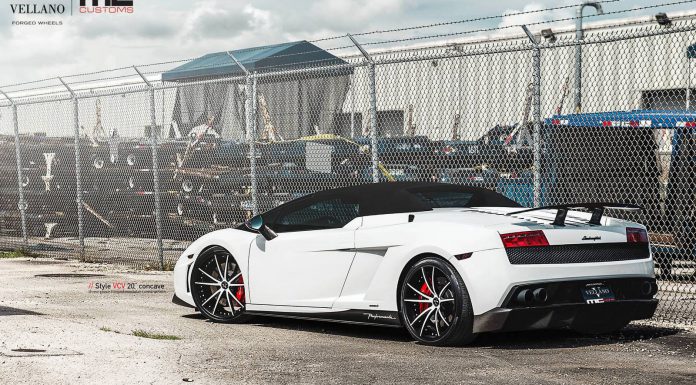 The Lamborghini Gallardo LP570-4 Performante is the Italian marques hardcore Gallardo Spyder. Due to the fact that it is lighter than the base Lamborghini Gallardo Spyder, the car is essentially a convertible version of the Gallardo Superleggera which makes the Lamborghini Gallardo LP570-4 Performante a real monster! Powered by a 5.2-liter V10 that produces 570bhp, 10 more horsepower than produced by the base Lamborghini Gallardo LP560-4 Spyder, the car will sprint from 0-100km/h in just 3.2 seconds. The Performante won't stop accelerating until it reached an astounding 323km/h!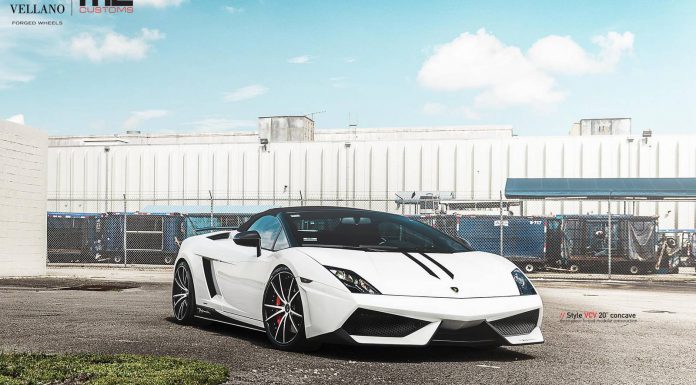 Keeping with the fashion of late, a number of Performante's were specced in white, Bianco, and looked great with contrasting black stripes and the carbon body parts as well as black lined front air-intakes.
For an added dose of aggression, this Performante has been fitted with stunning concave Vellano VCV 20″ and has even been lowered. The matching wheels add another dimension of detail to the look and stance of the car, dramatically enhancing this Italian Bulls desirability!