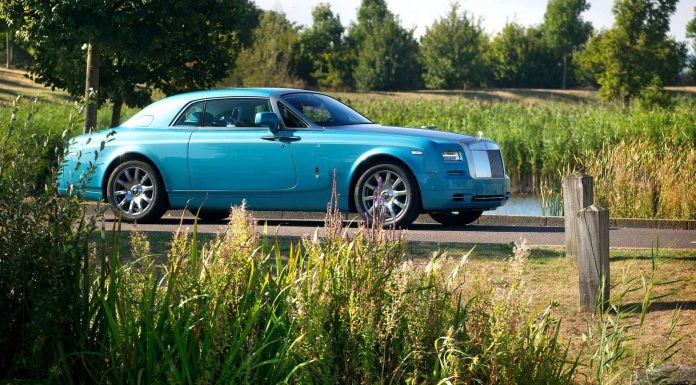 Ghawwass: The Arabic translation for the word 'Diver'
Yesterday we showcased a very special Rolls-Royce that would give you the feeling of sitting under the stars every time you sat in its superbly comfortable reclining seats. Today we present you with another spectacular example: The Rolls-Royce Ghawwass Phantom Coupé.
Inspired by the Arabic word for 'diver', the Ghawwass Rolls-Royce Phantom Coupé celebrates the traditional method of collecting pearls from the Bahrain pearl banks. This theme is brought out by the rich turchese paint – representing the green-blue waters of the Arabian Gulf – the pearl veneers, and the Dhow sailing boat motif, which features in the coachline, headrest embroidery, and as a unique raised chrome motif laid into the aluminium of the passenger panel.
The turquoise car looks spectacular against the bi-coloured interior. The car will be more than likely to stay in the UAE where the Rolls-Royce is not only a very popular car but a status symbol that is a must for any Arab Sheikh. The rarity and bright coloured exterior will command a premium over the all to common standard car. It is no doubt a desperately pretty car and certainly one that would attract a scene wherever it come to a standstill.