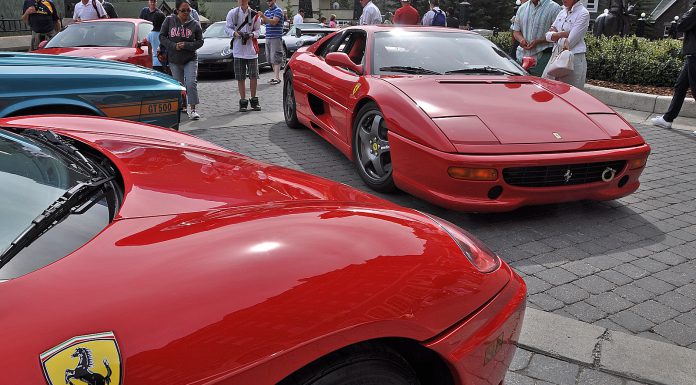 Erik Dumas and his girlfriend Mary have long joked that she will get her engagement ring when he gets his engagement Ferrari. After plenty of looking around, Erik decided it was finally time to propose. He bought himself a brilliant red Ferrari 355 Challenge and hid it in the parking garage at work for three months so she wouldn't find out. After all, he had big things planned for her.
For weeks, Erik pondered how he would propose. He and Mary are both immersed in car culture, and both enjoy driving events. So what better way to propose to her than to do it after a nice scenic drive?
Weeks of preparations had gone by, and Erik was ready to make things official. After asking his Porsche Club and Ferrari Club friends if they would be interested in driving to Banff with him – a plan was set in motion.
Twelve Porsche's and Ferrari's met in a small parking lot early in the morning on September 2nd, 2013, ready to convoy out to the breathtaking viewpoint that is the Fairmont Banff Springs hotel. Little did Mary know that her boyfriend Erik was planning on proposing to her when they arrived.
Erik and Mary left Calgary in a black Porsche 911 Turbo with the convoy of supercars in tow. As the million-dollar rolling caravan headed out of the city, it was off to checkpoint #1, Ghost Lake, Alberta. Here we would await a spotter plane, which would be recording video from above. This was also the perfect opportunity for Erik to convince his girlfriend to ride in one of the other cars so he could continue with the plan. When the plane came overhead, the convoy hit the road once again. With Mary now in the lead car, the rest of the pack held back, letting her get ahead. After all, we were not heading straight to the hotel. We had one more checkpoint to go to first.
While Mary impatiently awaited the arrival of the rest of the cars, the rest of the crew detoured to a parking lot just down the mountain from the hotel to outfit four of the cars with special license plates: Will, You, Marry & Me?
The rest of the cars headed up to the hotel, with the four special cars coming in a few minutes later. Mary was told to videotape all the cars as they came in. Little did she know that there was a very important reason for this. After the cars passed her by, a red Ferrari 355 Challenge appeared at the tail end of the snake. This car was not part of the original convoy. Erik swapped out his Porsche for the 'engagement Ferrari' just before arriving to the hotel.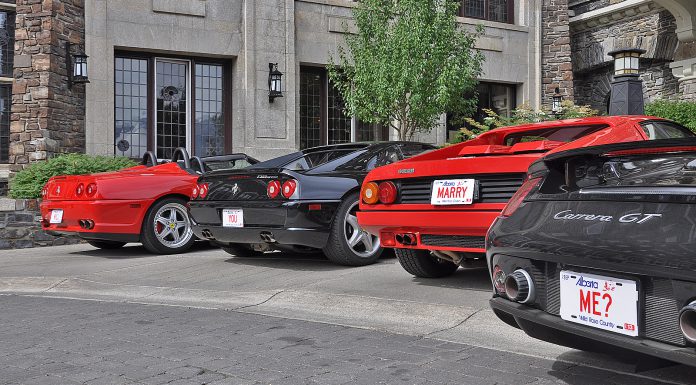 When Mary saw Erik driving, she began to wonder what was happening. She questioned why her boyfriend was driving a different car. When she was prompted to turn around and videotape the license plates of the four cars, she gasped in awe. Now everything made sense. The engagement Ferrari, the whole drive, the picturesque viewpoint. Before she could turn around, Erik got down on one knee and popped the question: "Will you marry me?"
Watch this exclusive video to see how it all unfolded:
[vimeo]http://vimeo.com/76387042[/vimeo]