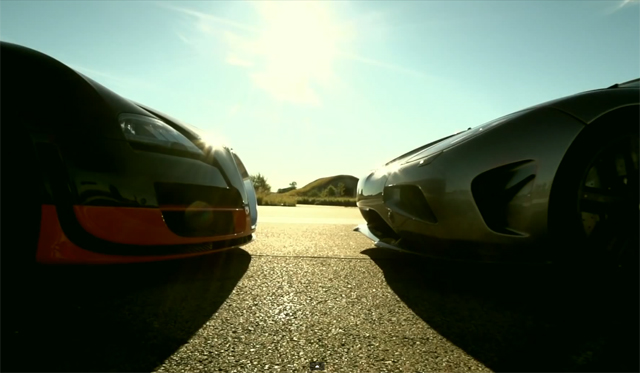 It is the clash of the titans, the giants of the topspeed battle finally put side-by-side on an empty strip of tarmac. The race we have all been waiting and yearning to see. The French Bugatti Veyron Grand Sport Vitesse against the Swedish Koenigsegg Agera R.
The Vitesse has the Agera R beaten on power. Its 8-liter W16 shoves out 1,184bhp to all four wheels where the Agera R produces 1,124bhp just to its rear wheels. As a result on paper the Vitesse is 0.3 seconds quicker to 100 km/h completing the sprint in just 2.6 seconds.
Brute force is not always the best way though. The Vitesse weighs in at 4,162lb considerably more than the, in comparison, featherweight Agera R which weighs 3,164lb. This race should be a very close one!
[youtube]http://youtu.be/qj3Oo-_jecg[/youtube]
Gallery Bugatti Veyron Grand Sport Vitesse
Gallery Koenigsegg Agera R