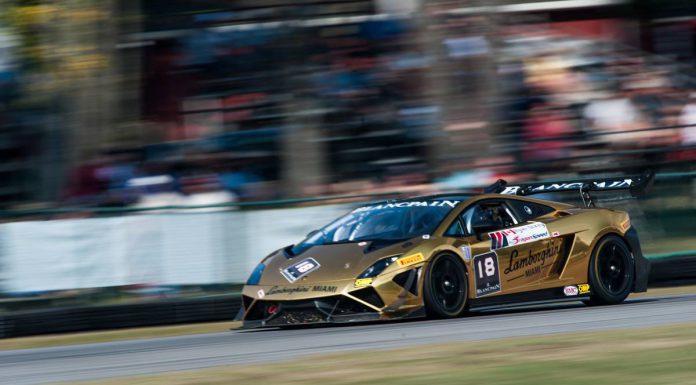 19 year old Andrew Palmer scooped his maiden win during the Lamborghini Blancpain Super Trofeo at the Virginia International Raceway yesterday. This was during Race two, after finishing fourth in Race 1. Palmer has qualified first for Race one but was squeezed away from the lead before the race was over, this was his first race after a successful karting career and he races for GMG Racing and Lamborghini of Beverly Hills.
Al Carter racing for Lamborghini Palm Beach and Mitchum Motorsports was lucky to overtake Race one winner Justin Bell when the green flag was shown. On lap 6 newcomer Peter Strasser for Lamborghini Washington and Wisko Race Engineering hit the tire wall at the S section through turns 8 and 9. This prompted the Aventador safety car to emerge and at the same time, the mandatory pit window opened.
This was definitely a game changer for all, as the pit window closed it was Montour and Palmer who emerged first. Both of these young drivers were now leading the pack with Palmer pressuring Montour from behind. Palmer's lucky window opened when Montour ran wide in turn three, he sneaked past him and maintained the lead till chequered flag. Montour finished second with Al Carter finishing third.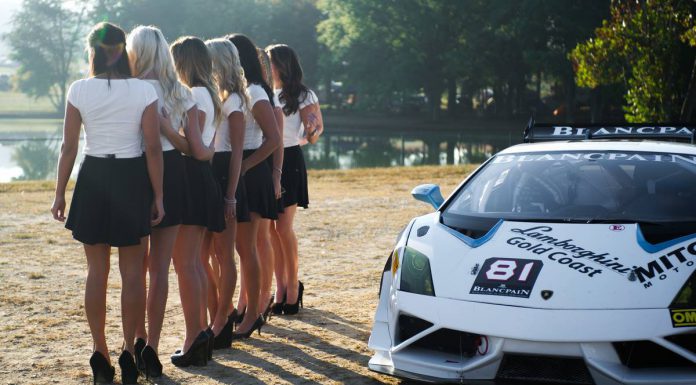 Andrew Palmer said,
"I got some great advice from Justin Bell and a few of the more experienced guys after yesterday's race. They told me I need to conserve the tires and really push in the last 15 minutes. The safety car really helped me do that and I was able to apply lots of pressure to Louis, and managed to take my chance as he ran wide 2 laps out. It's been such a great weekend. The cars, the drivers, the teams, it's been an incredible experience."
Second place Louis Philippe Montour added,
"The Mitchum pit crew were great. They talked me through the race and helped me maintain my tires. This is my first time driving the car and it was just unbelievable. I love the four-wheel-drive. It's so responsive and great to race. Credit to Andrew, he took advantage of my mistake and deserves the win but I am still thrilled to get second!"
Race One winner, Justin Bell added,
"These young guys have proven to be extremely quick learners. The moral of the story is don't give too much advice to these kids! It was great to be here. Thrilled to get the win yesterday and just a great series to be a part of, especially at an important race here at VIR."