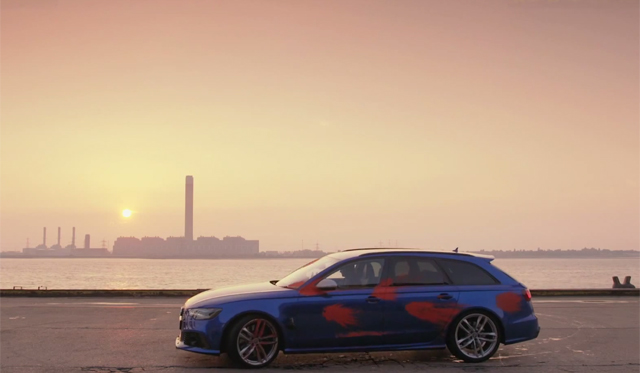 Ever wondered what the best way to play dodgeball with paint filled eggs is? No neither did we until Audi released this bizarre clip of a free-runner and Ben Collins, TopGears defected STIG, hurling oversized-paint balls (eggs!) at one another. Collins naturally donned the drivers seat of the RS6 and hooned around a deserted warehouse and ship-yard whilst being chased and chasing Damien Walters, a professional free-runner.
[youtube]http://youtu.be/lInd8GimJJc[/youtube]
The runner faced a tough test up against the extraordinary RS6, one of the fastest estate car in the world. We recently tested the uber-estate and were stunned by how well rounded and capable the car was. At the heart of the 2014 Audi RS6 is a new uprated twin-turbo version of the 4.0 V8 TFSI engine also found in the S6. The engineers at Quattro GmbH, the company responsible for the RS models, managed to squeeze out another 140hp, lifting its output to a more than impressive total of 560hp. This results in a scarcely believe 0-100km/h time of just 4 seconds in a car that weighs in at over 2 tonnes!