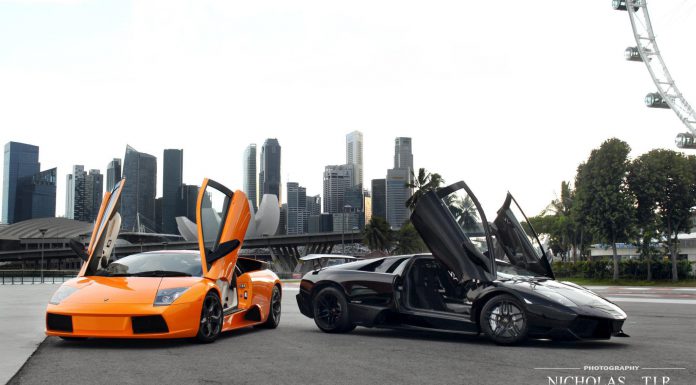 The Lamborghini Murcielago is no more. It was replaced in 2011 by the more faster, more efficient, much improved LP700-4 Aventador. That has not stopped the Murcielago leaving quite an awesome legacy behind though. Todays Photo of the day features not one Murcielago but two, the first and last editions of the V12 supercar and the difference between the two cars huge, testament to the work of the Lamborghini engineers and their lunacy fueled imaginations.
The first generation cars were produced between 2001 and 2006, and known simply as Murciélago. Their V12 engines produced 572 hp, and powered the car to 100 km/h in 3.8 seconds, very impressive performance for a car not only back in 2001 but even by todays standard. This Murcielago pulls off orange like no other car can!
The car pictured on the right is one that needs no introduction, a car that personifies the remarkable insanity of the marque down to the very last detail. Based on the standard Murcielago, 350 $400,000 Super Veloce's were destined to be built although only 186 LP 670-4s were produced before the factory had to make room for the new Aventador production line. Rarity means that this 661hp V12 raging bull is one of the most popular and sought after Lamborghini's ever. The cars power was not only increased but the weight decreased by a sizable 100kg's. This resulted in a spectacular 0-100km/h time of 3.1seconds, aided by launch control and Lamborghini's superb all-wheel-drive system.
One generation of beautiful yet brutal cars that redefined the marque and set the bar for the LP700 Aventador. We sure hope that the more powerful versions of the Aventador can match the drama and finesse of the super-desirable 670-4SV!
This superb shot was taken by Nicholas TJ.R Photography and has incorporated the lines and angles of these two magnificent cars with the mighty skyline of Singapore's CBD.