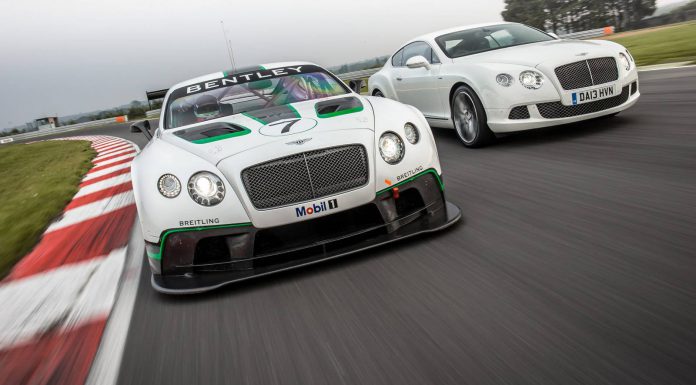 The long-awaited 2014 Bentley Continental GT3 is set to make its racing debut at the upcoming 2014 Gulf 12 Hours held in Abu Dhabi on December 13th this year. The race will mark the return of Bentley to international motorsports following its 2003 Le Mans 24 Hours victory.
As you may recall, Bentley first took the wraps off a concept version of the 2014 Bentley Continental GT3 back at the Paris Motor Show 2012 and the race-ready car is even more impressive. Bentley engineers spent most of their time stripping the overall weight of the 2014 Bentley Continental GT3 down from the standard road car and all told, over 2,200 pounds of excess weight was removed.
Moving to the powerplant, the 2014 Bentley Continental GT3 is fitted with a twin-turbocharged 4.0-liter V8 engine producing an extremely impressive 600hp, a 100hp gain from the production variant. All that power is then sent straight through the rear wheels via a carbon fiber driveshaft topped off with a six-speed sequential transmission from racing-specialists, Xtrac. When combined with an overall weight of 2,866 pounds and a 52:48 weight distribution, the 2014 Bentley Continental GT3 promises to be a real competitor for the McLaren 12C GT3, Mercedes-Benz SLS AMG GT3 and of course, the 2013-spec Lamborghini Gallardo GT3.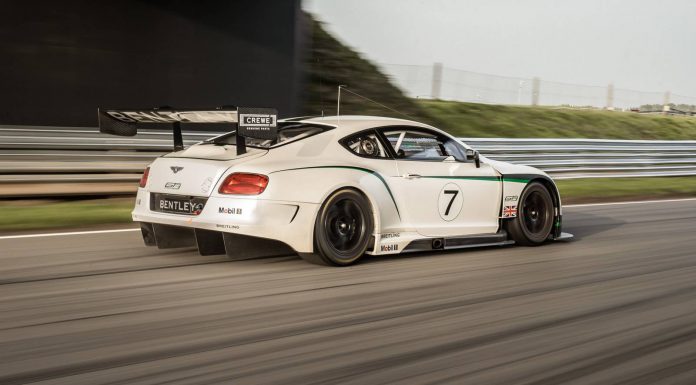 Bentley's Director of Motorsport Brian Gush said, "The car has performed extremely well so far, and has matched or exceeded our simulations in every respect. With 3000 km of testing completed already, the team is very pleased with progress and we're gaining confidence in our package. We're all looking forward to the Gulf 12 Hours in December and can't wait to run the car against the competition for the first time in its first test race."