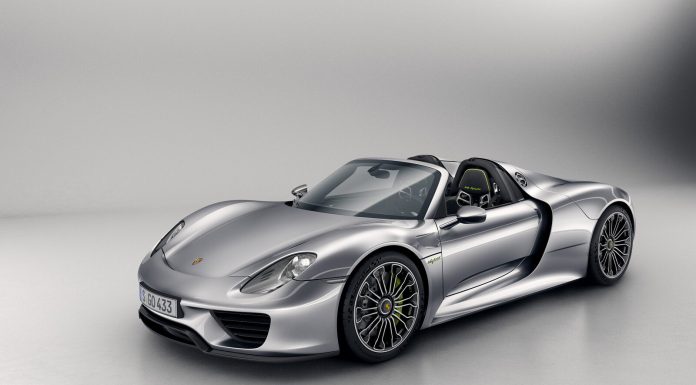 So after years in development and a couple weeks after officially debuting at the IAA Frankfurt Motor Show 2013, production of the 2014 Porsche 918 Spyder finally began yesterday!
Production of the Porsche 818 Spyder is taking place at Porsche's Zuffenhausen factory and the very first customer deliveries are expected by the end of the year.
As a reminder, the Porsche 918 Spyder comes fitted with a mid-mounted 4.6-litre V8 engine producing 608hp independently – the highest specific power of any naturally aspirated Porsche engine. The V8 is then supplemented by a further two electric motors mounted on each axle. The electric motors can either drive the wheels independently or work together with the engine to boost performance. Each motor produces enough power to boost the total figure of 887hp. A seven-speed Porsche Doppelkupplung (PDK) controls power delivery to the rear wheels.
Thanks to this potent drivetrain, the car was recently confirmed as the world's fastest globally road homologated car to the lap the Nurburgring! The record was achieved on September 4th, and saw the 887hp German hypercar sprint around the track in just 6 minutes and 57 seconds!
Porsche factory race driver Marc Lieb was at the wheel and the final 6:57 time shaved a full 14 seconds off the Porsche 918 Spyder's Nurburgring lap time set last year before Porsche embarked on giving it significantly more power.