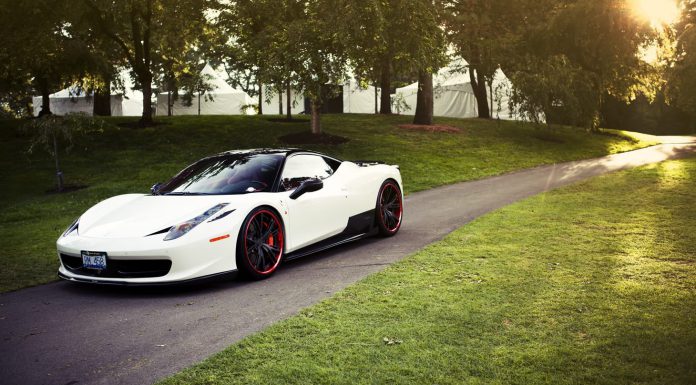 The Ferrari 458 is a beautiful piece of both engineering and art. The look of the standard car oozes class and style whilst still being subtle. But what if you want a car that a little louder both on the eye and the ear? To the eyes first. PUR are renowned for created some of the most intricate and appealing wheel designs in the industry and from the photos you will be able to see that the PUR 9INE Depth, 21×9, 22×12 wheels finished in Matte Modern Black Face and complemented by the Davinci Red Lip are no different than what you would expect from the designers.
What may come as a surprise is that PUR have also designed and created the front lip and skirts you see on the 458. The gorgeous black parts contrast with the white of the cars body giving the car a unique look. Adding to the aggressive impression of this stunning car is the Novitec Lowering Suspension system.
Back to the sound of the car and Akrapovic Exhaust Systems have worked their magic on this 458 to make sure this car will be turning heads before it is even been seen.