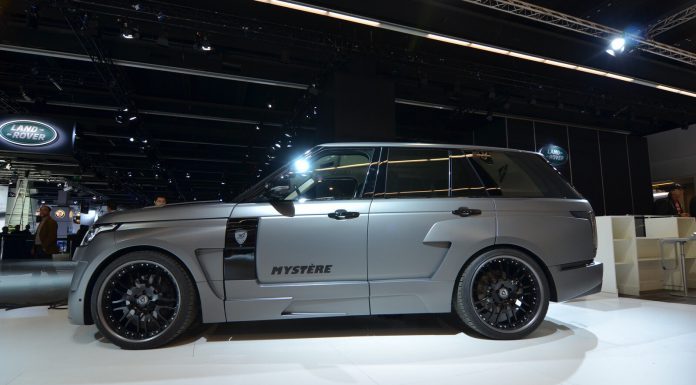 Hamann have ditched the mirrored purple wrap we saw fitted to the Mystere at Geneva earlier in the year. The car on display at IAA Frankfurt Motor Show 2013 is fitted with a matte grey body finish which provides a sinister look to match the pumped up bodywork! We caught up with it on the stands!
For the exterior of the 2013 Range Rover, Hamann offers a complete body kit which is 80 mm wider than the standard one. It comes with a new front spoiler and integrated LED daytime running lights. It includes front and rear wheel arches, side skirts and a carbon fiber bonnet with a power dome.
At the rear, Hamann has integrated a rear spoiler and a roof wing. An electronic lowering module that reduces the SUV's ride height by 40 mm, bespoke alloy exhaust tailpipes, a set of 23 inch forged rims, and 305/30/23 Continental tires round out the exterior look of the new Range Rover.