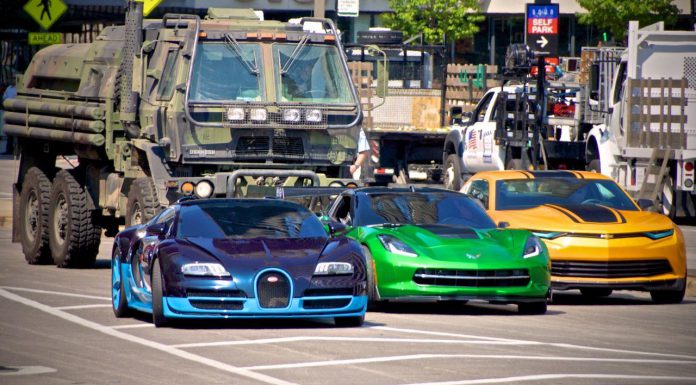 Transformers 4 has been filming in Chicago for a few weeks now, and after a short hiatus from filming with the automotive cast, they're back at it. The Transformers 4 crews are shooting a scene outside the Blue Cross Blue Shield Tower in Chicago. In addition to the human cast, consisting of Mark Wahlberg, Jack Reynor and Nicola Peltz, both the 1967 Chevy Camaro SS and 2014 Chevrolet Camaro Concept made an appearance.
The Bugatti Veyron Grand Sport Vitesse was also on set, meaning it is likely one of the main Autobots in the film. It'll be interesting to see a film debut with a Veyron as one of the main hero cars in the film. Additionally, the 2014 Corvette Stingray was present on set as well as a 2014 Aston Martin Vanquish, which has just appeared on the set. There is no word if the Aston Martin is an Autobot, Decepticon or a civilian vehicle.
A Chinese E-Jet concept vehicle has also appeared on set for the scene being shot. With most of the film taking place in China, it only makes sense that something like this would be set to appear in the fourth installment of the franchise.
We already know that this Transformers film will showcase some unique supercars, and it will be interesting to see if any more will be added to the cast as the movie continues shooting.