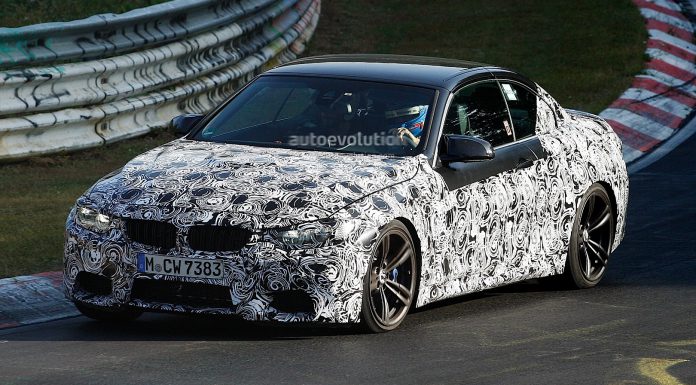 BMW has officially taken development of the upcoming 2015 BMW M4 Convertible to the track with the following prototype recently being spotted at the Nurburgring!
Prior to today, spyshots had emerged of the 2014 BMW 4-Series Convertible testing but the lowered stance and black wheels of this prototype turn the car into an entirely different beast. While the camouflage is hiding most of the new design elements, the 2015 BMW M4 Convertible does feature a more aggressive front bumper. A blacked-out and slightly redesigned front grille can also be seen.
Recent rumours emerged that a production-ready version of the 2014 BMW M4 will make its debut at the Detroit Motor Show 2014 some five months after the concept was recently previewed at the Pebble Beach Concours d'Elegance 2013. If such a debut date turns out to be accurate, then we can expect to see the BMW M4 Convertible debut a few months after.
Whenever the drop-top version does debut, expect it to feature exactly the same engine as the coupe. That'll likely mean a 3.0-liter turbocharged six-cylinder delivering around 450hp. That compares well to the 414hp of the outgoing BMW M3.
[Via Auto Evolution]