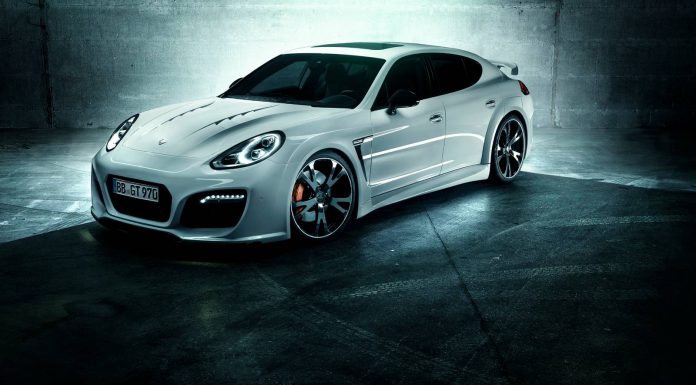 TechArt is set to showcase its interpretation of the latest facelifted Porsche Panamera at the IAA Frankfurt Motor Show 2013. Prior to the show kicking off, TechArt has released the following priew image of the new TechArt GrandGT. TechArt say the GrandGT "extracts the purest TECHART DNA from Porsche's premium limousine". High praise? Certainly, but it has got us intrigued!
On the outside TechArt aimed to focus on three main aspects, stability, aerodynamics and design. This exterior package is built from lightweight fibre composite of carbon and polyurethane reinforced metal. TechArt's Aero Package contains a modified front splitter, daytime running lights, aero engine hood, side skirts, wheel arch extensions, headlamp trim and trim slats. These changes al affect air flow but also change the look of the Panamera which is certainly a good thing!
There is also a new rear spoiler, roof spoiler and rear apron to further help high speed stability and to ensure that the TechArt GrandGT really stands out from regular Panameras. To further enhance the muscular look of the car, TechArt offer varying wheel designs ranging from 20 to 22-inches. A bespoke TechArt exhaust system complete with integrated valve-control is described by the company as creating "a noticeable increase in sportiness!"
The new Panamera Turbo produces around 520bhp. However, the TechArt power kit is expected to boost that figure to 580bhp thanks to tuning the engine management systems.
As always, customisability is big plus when working with tuning companies such as TechArt. The choice of colours, design and material is much broader than standard and TechArt has been sure to pick up on this with its in house saddlery. Stitching, trim, panels and surfaces can all be matched to the customers desires and as is the fashion of recent times, carbon interior pieces in =varying colours are also available. Furthermore, steering wheel colours and paddle shifters can be customised and the entire entertainment system in the Panamera can be adapted by TechArt even down to the fold-away tables!
Stay tuned to GTspirit for more Frankfurt news in the coming weeks!