It's been a while since we have seen the FIAWEC race cars in action. In fact, 24 Hours of Le Mans was the last time we saw racers such as the successful Audi R18 E-tron Quattro and the hardcore Toyota TS030 Hybrids. That anticipation comes to an end this weekend during the Le Mans 6 Hours of Sao Paulo. This is the fourth round in the calendar, with four more to go.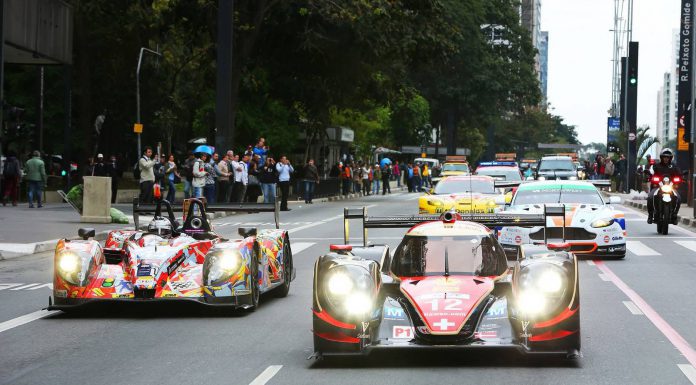 As tradition for most endurance racing series, a few days before the main races, drivers take to the streets in order to interact with the fans and show some action. Somehow, street parades of this sort are almost as exciting as the on-track action. This was the situation when a few of these cars took it to the streets of Sao Paulo. With a police escort, these loud racing cars were roaring down the road while letting their powerful engines scream.
Eventually, the drivers went to the Art Museum of São Paulo (MASP). Some of the drivers that went included Bruno Senna, Fernando Rees, Nicolas Prost and Bertrand Baguette, as well as Emerson Fittipaldi. Fernando Rees drove a Chevrolet Corvette that will race in the LMGTE-Am class.
Gerard Neveu, the CEO of the FIA WEC, said "This small promotion in the city is unique; it's the first time in São Paulo that race cars have been run on the streets and it's important for our local promoter for the WEC paddock, Emerson Fittipaldi, to exhibit the cars and we're taking it to the fans. We are not waiting for the fans to come to the circuit."
According to Neveu, the idea was to show the LMP and GT cars which will take part in the FIA WEC this weekend on the street. There was a large amount of press in the area that were there to photograph this special occasion. Some of the cars that showed up for the event was an LMP1 from Rebellion Racing, the OAK Racing Art Car, Bruno Senna's Aston Martin GT car, and Fernando Rees' Larbre Corvette.
Neveu also went on to say that he thought that this was the right way to demonstrate the efforts of the teams and the local promoter to advertise and promote an event such as the 6 Hours of Sao Paulo.