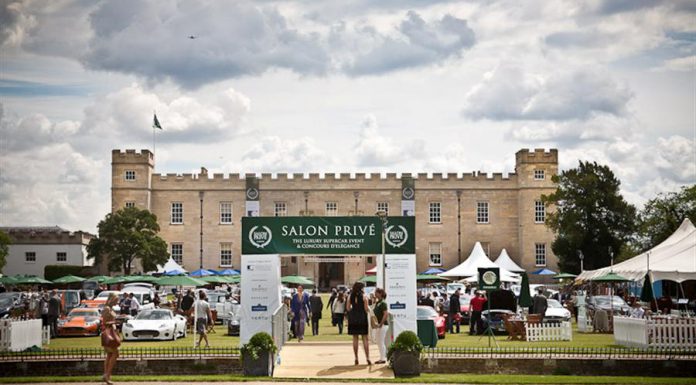 Salon Prive 2013 draws nearer and nearer and ahead of next weeks event we present a small preview of the event and attending cars. Salon Prive is the UK's premier 'boutique' motoring event. It takes place from September 4th to 6th at West London's Syon Park. Salon Prive has proven to be among the world's leading automotive events, with aspirations to rank alongside US Pebble Beach Concours d'Elegance and Italy's Villa d'Este.
GTspirit will be live at the event on Wednesday the 4th of September! The event seeks to close the summer car festivals in style! The full overview of the schedule is available here, but just to sweeten things up, there will be a collection of 50 stunning classic cars at the Tour d'Elégance worth over £22 million heading to Salon Prive on Tuesday the 3rd of September. The Salon Prive Tour d'Elegance 2013 will stop at Mercedes-Benz World in Brooklands between 12 and 2pm on Tuesday for spectators to see!
Expect to see cars such as the 1949 Riley 105 Transformable Coupé, 1948 Ferrari 166 Inter-Sport Corsa and a 1973 Porsche 911 RS M471 'Lightweight'.
List of cars to be featured at the Chubb Insurance Tour d'Elégance:
1 1949 Bristol 400 Farina
2 1949 Riley 105 Transformable Coupé
3 1954 Bentley R Type Continental
4 1999 Lamborghini Diable SV Roadster
5 1954 Bentley R-type Continental
6 1985 Ferrari 288 GTO
7 1949 Jaguar XK120
8 1967 Aston Martin DB6 Volante
9 1984 Aston Martin V8 Vantage
10 1964 Aston Martin DB5 Convertible
11 1963 Ferrari 250 GT/Lusso
12 2001 Aston Martin DB7
13 1928 Bentley 4.5l Le Mans
14 1976 Ferrari 308 GTB
15 1947 Cisitalia 202 MM Nuvolari Spider
16 1994 Porsche 993 RS
17 1963 Ferrari 250 GT Lusso
18 1948 Ferrari 166 Scaglietti
19 1975 Lamborghini LP400 Countach
Below is a few cars that were in last year's event.