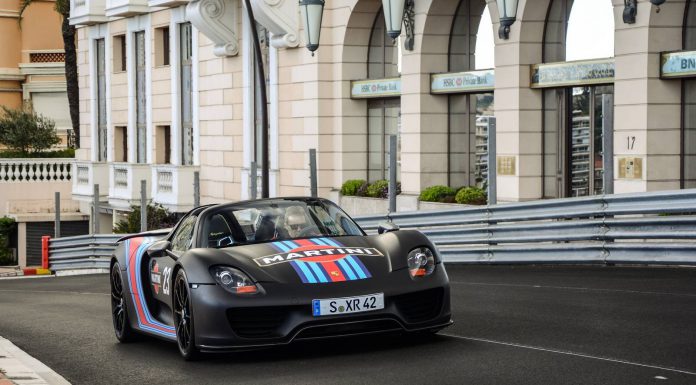 New reports have emerged suggesting that Porsche is considering producing an all new four-seater likely to be based off the upcoming Porsche 918 Spyder. Don't however, expect to see a stretched 918 Spyder anytime soon, as the car would likely just use a modified variant of the 918's carbon fiber monocoque and its engine.
Currently dubbed the Porsche 984, this potent sedan could feature a mid-mounted eight-cylinder engine powering the rear wheels. That engine would be the same as the one used in the Porsche 918 Spyder without the hybrid technology. Think of the Porsche 984 as the German automakers answer to the 2011 Lamborghini Estoque.
Despite the extra size, two extra seats and two more doors, Porsche could offer the 984 for around 350,000 euros, making it less than half the price of the 918 Spyder. What's more amazing about these rumours is that they suggest a full-sized concept has already been created and is sitting at Porsche's headquarters!
As mentioned, the Porsche 984 could feature the same 4.6-liter V8 engine as the 918. However, rather than the 612hp delivered in the company's halo supercar, the 984 could see power lifted closer to 700hp to eclipse the upcoming Porsche 911 GT2 RS.
Unfortunately, we can't expect to see the Porsche 984 anytime soon. In fact, with deliveries of the Porsche 918 Spyder not set to begin until next year, a debut of the 984 before 2017 would be unlikely. Additionally, if the slow sales of the 918 Spyder are anything to go by, demand for such an expensive and extreme four-seater simply may not be there to make it worthwhile.
[Via Automobile Magazine]