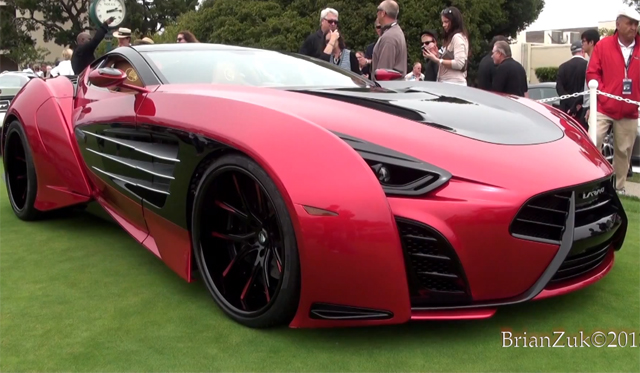 While attending the recently concluded Pebble Beach Concours d'Elegance during the Monterey Car Week 2013, BrianZuk on YouTube managed to film the one-off Laraki Designs Epitome Concept driving and revving!
From a design standpoint, the Laraki Designs Epitome Concept is one insane looking creation clearly channelling design cues of some other extremely rare and unique supercars, such as the Aston Martin One-77. However, underneath the dramatic skin is one hell of a powertrain which has recently been confirmed to deliver at total of 1,750hp!
[youtube]http://www.youtube.com/watch?v=X4g5SSaUynY[/youtube]
Built from the chassis of the Chevrolet Corvette C6, the Laraki Designs Epitome Concept tips the scales at 2,800 pounds and is powered by a custom 7.0-liter Chevrolet V8 engine fitted with two turbochargers. On pump gas, the Laraki Designs Epitome Concept is consequently capable of developing 1,200hp but there's a catch. That is when just one of the two fuel tanks is being utilised with the first holding regular pump gas. However, at the touch of a button, the Laraki Designs Epitome Concept can engage that second tank filled of what is essentially race fuel (110 octane), change the ECU mapping and develop the peak 1,750hp output.
While such claims are certainly impressive, they're not anything new. We've heard of supercars in the past reported to deliver well over 2,000hp which have never seen the light of day. Nevertheless, it's hoped that nine examples of the Laraki Designs Epitome Concept will hit the production line each priced at $2 million.