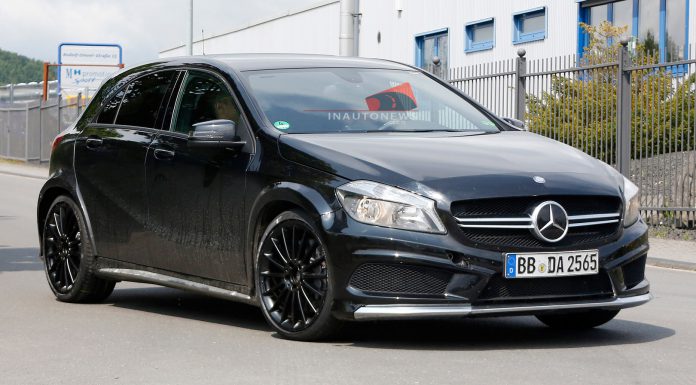 Spy photographers recently snapped the very first images of what's believed to be the upcoming Mercedes-Benz A45 AMG Black Series testing at the infamous Nurburgring!
The following image may only appear to showcase a regular Mercedes-Benz A45 AMG and due to the lack of camouflage, it certainly seems like a regular A45 AMG. However, under the hood, it's believed this prototype is sporting a significantly more powerful engine delivering upwards of 400hp despite its tiny 2.0-liter size!
2014 Mercedes-Benz A45 AMG Edition 1 Gallery
As our recent test drive showed, the regular Mercedes-Benz A45 AMG is already an extremly potent hot hatch. Fitted under the bonnet is a brand new 2.0-litre four-cylinder turbocharged engine rated at 360hp and 450Nm of torque. Despite the appreciable reductions, the AMG still sets the bar higher than its rivals. The four-cylinder is the most powerful 'series production' four-cyinder engine in the world, as well as the second most power dense unit in existence (the number one spot goes to the McLaren P1′s V8 unit). Power is transferred through a familiar 7-speed DCT gearbox.
Perhaps the most surprising statistic relates to the car's performance. 0-100km/h is posible in just 4.6 seconds, just 0.2 seconds slower than the current C63 AMG Sedan. Of course, in Black Series specification, those figures will be even more impressive!
[Via InAutoNews]