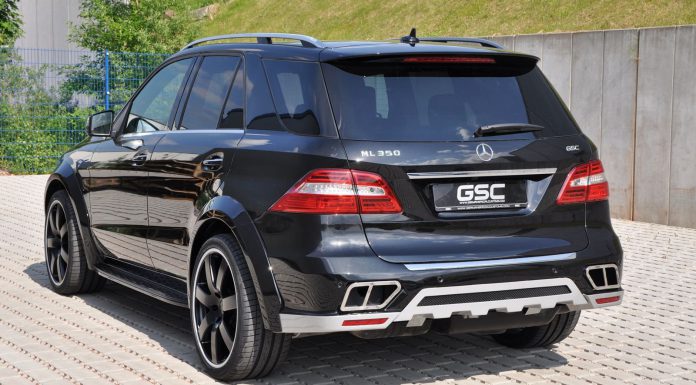 German tuning company German Special Customs (GSC) from Chemnitz presented their latest styling package for all current Mercedes-Benz ML-Class models. They have created a wide body kit to improve the performance and emphasize the lines of the German SUV.
The GSC wide body kit includes a front bumper bar with integrated LED daytime running lights and a front spoiler lip with narrow ventilation openings. For improving the engine ventilation, GSC has integrated a completely new engine hood with centrally installed air shaft. Specially manufactured mud guard extensions for the front and rear axles ensure a clearly massive and intimidating appearance. GSC has developed a completely new bumper bar including diffuser for the rear side as well as integrated end-pipe covers made of the company's own stainless steel sports exhaust system. The optical modification of the Mercedes-Benz ML is rounded up by a set of carbon covers for the door mirrors. An additional air suspension kit can be lowered on demand by using an electronic module.
In addition to the optical modifications on the body shell, GSC also offers a complete set of ornamental parts made of carbon fibre for the interior as well as tailor-made leather and alcantara solutions for the seats and an upgrade of the speed indicator scaling to 350 km/h.