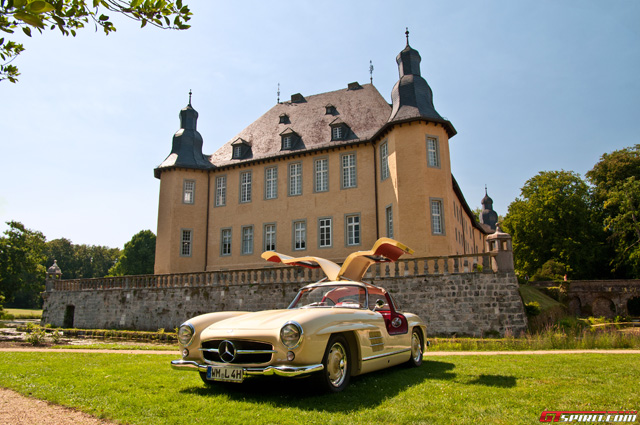 The Classic Days at Schloss Dyck were held the first weekend of August. Some of the highlights have already been covered, in this part of our report from the "German Goodwood" we will take a look at some of the historic vehicles parked in the gardens surrounding the 900-year old moated castle.
Among the classic cars on display were many Bugatti models, from which the Type 35 was most common. This model of legendary French manufacturer is one of the most successful racing cars in the world, as it claimed more than 1,000 victories in its time.
Another iconic Bugatti on display was the Type 59 (1934). This elegant racing car is powered by a 3.3-liter supercharged straight-8, capable of delivering some 250 horsepower. Only eight of these Grand Prix cars have been built, which makes this car rarer than the modern-day Veyron.
Even more remarkable was the Bugatti Type 32 "Tank" (pictured below). The streamlined Bugatti finished third in the only race it entered — the 1923 French Grand Prix. De facto an experiment in aerodynamics, the 4-cylinder powered "tank" handled so poorly it never raced again.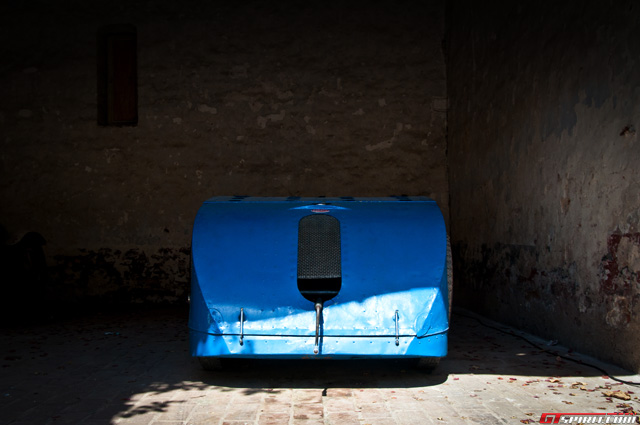 A special exhibition was held featuring ten cars made by Erdmann & Rossi, a Berlin-based coachbuilder founded 115 years ago. Bespokery and coachbuilding of luxurious cars was quite popular among the wealthy in the 1920s and 30s and nowadays these custom crafted cars could fetch millions. Several cars modified by Erdmann & Rossi were on display, including models by Audi, BMW, Horch, Mercedes-Benz, and Rolls-Royce.
Exact forty cars participated in the concours d'elegance which was held in the park next to the castle. One of the oldest Beetles in the world was among the entries. Built in 1938 by Ferdinand Porsche, the black VW38 Prototype marked the birth of the successful "people's car" — in German "Volkswagen" — from which more than 21 million were made.
A rare family member of the first generation Beetle was also present at Schloss Dyck. Based on the Volkswagen, the green Volkhart V2 Sagitta was designed in the 1940s as a fast courier car for Luftwaffe. The car was powered by a modest 1.1-liter boxer engine, which provided just over 24 horsepower. Nevertheless the streamlined V2 Sagitta was capable of hitting 140 km/h thanks to its low drag coefficient. This also showed how far understanding of aerodynamics had come since the Bugatti Type 32 "Tank". In fact, the V2 Sagitta is more aerodynamic than most modern cars, including the current Volkswagen Golf. The design principles of the Volkhart V2 Sagitta also led to the Porsche 64, arguably the first automobile from what was to become the Porsche company.
All in all there was a lot of interesting stuff to see at the Schloss Dyck Classic Days. Great racing cars, exclusive one-offs and remarkable experiments on wheels — a visit to next year's edition is recommended for those interested in great cars and automotive history.